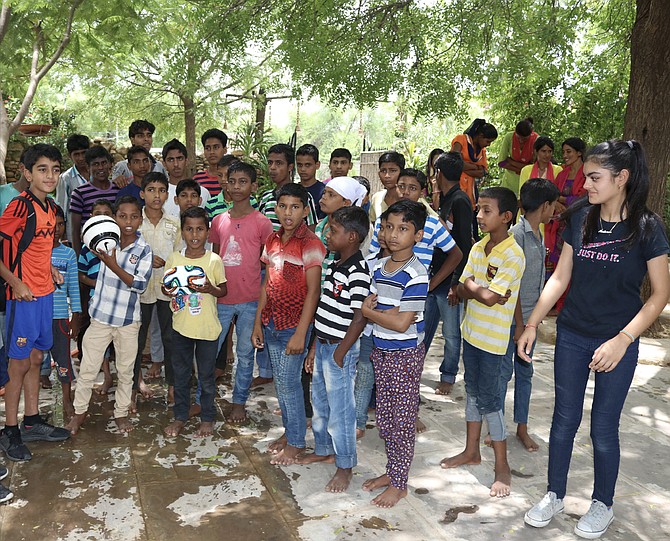 "That's their dream: By the end of their lives, they want to eradicate trafficking. I'm hoping maybe it's by the end of my life – I hope I can see the day that trafficking is nonexistent." — Geeta Saran
About six years ago, now-14-year-old Medhnaa Saran and 12-year-old Kushaan Saran first visited the Bal Ashram in India, an orphanage that cares for victims of child trafficking and labor. At the orphanage, the Vienna siblings interacted with these children, and returned home with a desire to do something to help.
"Originally, I started taking them [to the Bal Ashram] because I wanted to ground them. Since we live in Vienna and everybody gets what they want, they've just seen the good life," their mother, Geeta Saran, said. "But they turned it into something else."
Since then, Medhnaa and Kushaan have dedicated their lives to helping the children at the orphanage and raising awareness about child trafficking and labor. Most recently, they are launching a campaign called "Not My Child" to push FCPS to create mandatory assemblies about child trafficking, tailored to each age group.
These assemblies would teach students how to recognize the signs of child trafficking – like being fearful of talking or not making eye contact – and what they can do to help. They would also reinforce concepts like being wary of strangers and staying safe on social media.
THE SISTER AND BROTHER chose to call the campaign "Not My Child" to reflect the sentiment that human trafficking would never happen to children here. They surveyed Fairfax County parents and found this denial to be very common.
"We just asked them, 'What are your thoughts on child labor? What are your thoughts on child trafficking? What would happen if that happened to your child?'" Medhnaa said. "And they always said, 'Oh, it's not going to happen to our child, because we're in Fairfax County.'"
After the family's first visit to the Bal Ashram, they started going every year. Medhnaa and Kushaan raised money for the orphanage through bake sales, soccer tournaments, cupcake wars and cultural events, bringing in a total of over $10,000. They also have collected and packed more than 400 clothing items to bring to the orphanage.
"At first, when we found out what child labor and child trafficking was, we were shocked. We didn't know that kids are working adult positions, they're working for long hours with no breaks in really hot weather, and we were really, really surprised," Medhnaa said. "We knew we could help them even more after they've been rescued."
Over the years, Medhnaa and Kushaan have been able to connect with the kids at the Bal Ashram. They receive letters and pictures from the kids when they are home, and when they are in India, the siblings teach the children Hindi, English, math and even origami. In return, the kids at the orphanage have taught them a few things as well.
"They play [cricket] a lot in India and they love it in the orphanage," Kushaan said. "They're the ones that got me into cricket."
As the siblings helped the children at the Bal Ashram, they learned selflessness and how to care for others.
"They're willing to put their social life second to this cause, which doesn't directly benefit them, but it benefits other people," Geeta said.
Medhnaa and Kushaan learned items that are seen as insignificant in Fairfax County are often luxuries to the children at the Bal Ashram. They always bring chocolate when they visit, and the kids there love it. Geeta said that one boy offered Kushaan a piece of his chocolate, and Kushaan refused it, which is something he wouldn't typically do at home.
"I can get [chocolate] pretty much whenever I want," Kushaan said. "But they'll usually never get it, and so I want them to try it."
MEDHNAA AND KUSHAAN'S CRUSADE does not end with the "Not My Child" campaign – they just started a YouTube channel to educate more people on the dangers of child trafficking and labor, and they plan to get clubs started at Northern Virginia Community College and various Fairfax County high schools for students interested in this cause.
They are always collecting donations for their nonprofit, the Touch of Life Foundation, which raises awareness and funds for victims of human trafficking and child labor.
The Saran family hopes that one day, though it will be hard to achieve, trafficking will see its end.
"That's their dream: By the end of their lives, they want to eradicate trafficking. I'm hoping maybe it's by the end of my life – I hope I can see the day that trafficking is nonexistent," Geeta said. "I think every child should be able to grow up with their family, every child should be able to play and every child should be a child. Every child deserves happiness."
Child Labor Facts: