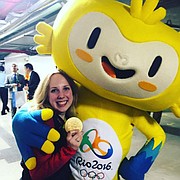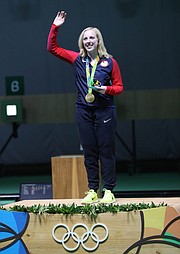 Before she left for the Río Olympics, 19-year-old sharpshooter Ginny Thrasher of Springfield was just looking to get experience in her first games. "I was looking more towards 2020 as a realistic option," she had said.
That timeline took a sharp turn on Saturday, Aug. 6, when Thrasher advanced to the finals of the women's 10-meter air rifle and went on to capture the gold medal.
It was the first gold for the United States in the Rio Olympics, and the first earned at the games overall.
Her final score of 208 bested Du Li and Yi Siling, the silver and bronze medalists from China.
Thrasher spoke to the media in a teleconference from Brazil, the day after she won gold.
"To have a final that was an honor to be a part of, win and stand on the podium and hear my nation's anthem was a very pride-instilling moment for me," she said.
"I think that the exterior of your life changes, but who I am doesn't change no matter what medals I win or how many medals I win," Thrasher continued. "I am excited that I get to enjoy all the outcomes that come with a successful Olympic Games. It's a really great opportunity for me to positively represent my country and my school."
Thrasher is a West Springfield High School graduate and rising sophomore at West Virginia University. She's competed in shooting at both schools. As a Mountaineer, Thrasher was the first freshman to win both air rifle and small bore individual NCAA titles earlier this year.
Small bore competition -- three-position 50-meter -- is Thrasher's second event at these Olympic games. She's scheduled to shoot in qualifying rounds on Aug. 11.
Thrasher began shooting five years ago after going on an inspirational hunting trip with her grandfather in Pennsylvania. She shot for the West Springfield rifle team and took on a grueling training schedule, spending several hours, three-to-four days a week, at the Arlington-Fairfax chapter of the Izaak Walton League facility in Centreville.
"People see the three percent of your performance which is in the spotlight," Thrasher said. "What they don't see is the 97 percent when you are in the dark, working very hard."