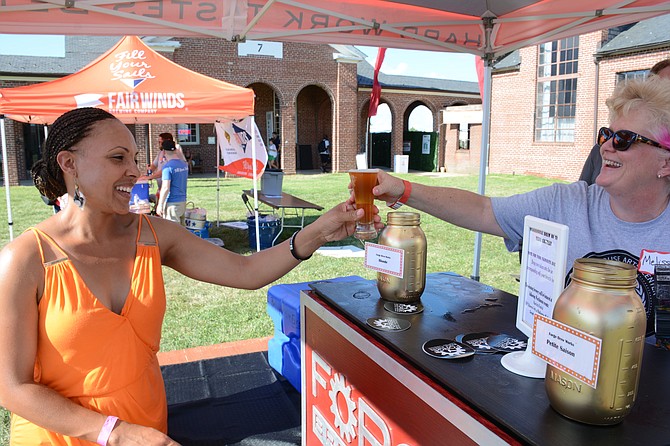 Photo Gallery
Workhouse Brewfest 2016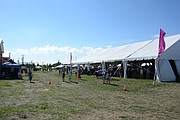 Click Photo for Flash
Shamara Wilkins of Lorton ventured out of the priceless shade just long enough to get a refreshing top up on her beer-tasting glass from Lorton-based Forge Brew works.
Despite sweltering heat in the 100s on Saturday, Aug. 13, Wilkins and her family came out to a first-of-its-kind event at the Workhouse Arts Center in Lorton: the Workhouse Brewfest.
"We love it," Wilkins said. "We're always looking for something different in the area, and this is a different event. We love the beer."
The former prison hosted more than 30 craft brewers, as well as a smattering of distilleries, wineries and other vendors on its campus throughout the day.
Due to the dangerous heat, Workhouse organizers opened many of the art buildings and encouraged visitors to take advantage of their air-conditioning.
Other precautionary measures included a presence of emergency medical technicians from Fairfax County Fire & Rescue and law enforcement from Fairfax County Police. There were numerous water and soda stations, tents, as well as misting stations.
"We're trying to give people as much water, soda and shade as we can," said Brett Johnson with the Workhouse. "For the first time, it's gone well. Next year will be better."
Mike Kuykendall of Burke, brand ambassador for Fair Winds Brewing Company in Lorton, said all the brewers appreciated the Workhouse providing plenty of ice to keep their kegs cold.
"For a first-run beer festival, they've done a good job," Kuykendall said. "Maybe next time they could have it a little later, or earlier in the year."
Despite the heat, Wendy Lemieux with the Fairfax County Office of Public Private Partnerships said she was very happy with how the event turned out. "We've received fabulous feedback," she said.
Partnering with the Workhouse to put on the Brewfest were Celebrate Fairfax and the Fairfax County Park Authority.
"This has been in the works for the last six months, said Lemieux. "It was about promoting the economic vitality of small businesses -- brewers and vendors -- and it morphed into this."
Steve Behm of Springfield just moved to the area from Los Angeles. He said he couldn't have asked for a better introduction to the local beer scene, including four Fairfax County breweries.
"The space is really cool, having the arts interspersed here," Behm said. "The fact it used to be a prison adds to the mystique."
Mustang Sally Brewing Company in Chantilly will host the follow-up, first-ever Fairfax County Brewfest on Oct. 1.