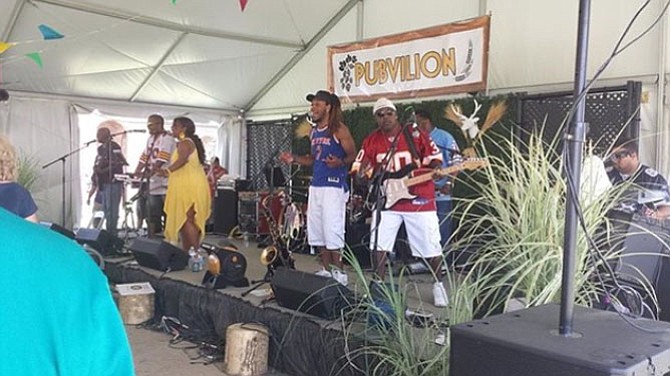 Lorton — "Brewfest" is returning to the Workhouse Arts Center in Lorton. With the
Where and When
"Brewfest" at Workhouse Arts Center, 9601 Ox Road, Lorton, Aug. 12, 2017, 1-8 p.m. (rain or shine). Information about ticket options from $20 to $85, and $10 parking available at workhousebrewfest... or call 703-584-2900.
Note: Designated Driver tickets are available. While children are permitted to attend the event, programming is intended for an adult audience. Children or those under the age of 21 who wish to attend will need to have a Designated Driver (non-drinker) ticket, and will have grounds access, unlimited root beer and bottled water, and be able to enjoy on-site musical performances. Children are required to be accompanied by an adult or guardian. As per Workhouse policy, pets are not permitted at "Brewfest." Service animals are welcome in the studios, galleries, museum and theatre.
success of the inaugural event last summer, this year's "Brewfest" will be even grander.
"Our Workhouse 'Brewfest' was a great success in 2016. Our guests loved it, Fairfax County was a huge supporter, and the participating breweries, wineries, cideries, and distilleries felt that it was the perfect way to introduce new audiences to the art and craft of their products," said Ava Spece, CEO and President, Workhouse Arts Center.
Along with 15 different area craft companies participating in "Brewfest," patrons will also be able to discover 12 galleries of original, high-quality art, meet 85 artists who create and exhibit at the Workhouse, as well as enjoy about a dozen bands performing throughout the day.
Asked about the response to last year's "Brewfest," Spece indicated that "looking at our post-event survey responses, it's clear that people had a fantastic time talking with brewers, tasting samples of beer and cider and whiskey, dancing and singing along with their favorite bands, or enjoying time in our air conditioned galleries."

For Casey Jones, CEO, Fairwinds Brewing Company of Springfield, the event "showcases the fine craft breweries in the area."
"Brewfest" will include food trucks and vendors on-site to offer a variety of dining selections. There will also be locations to try craft sodas, including a "Root Beer Garden." Free water will be available. The event goes on rain or shine.
One outdoor artistic project on display will be for those who look skyward. Workhouse artist-in-residence Martin Cervantez has transformed some of the unused guard towers still standing from the days when the Workhouse was a detention facility. They are now outdoor kaleidoscopes.
"With events like 'Brewfest,' we're able to introduce the Workhouse to audiences who might not otherwise have visited, all while showcasing the talents of regional small businesses, like Fair Winds Brewing. These businesses create good jobs, great products, and whose successes contribute to the strength of Fairfax County and our regional economy," said Tim Rizer, Chair, Workhouse Board.