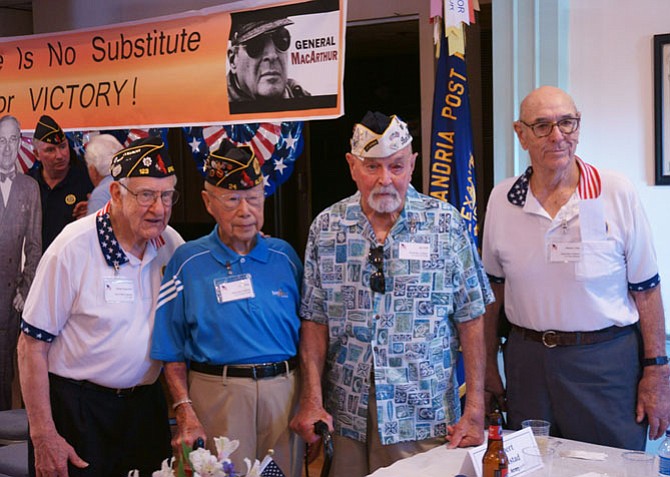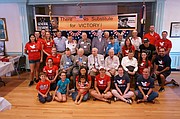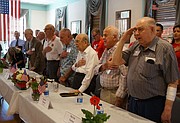 At 91-years-old, Air Force Col. Kim Ching (ret.) was the youngster among World War II veterans who gathered Aug. 20 at American Legion Post 24 in Old Town to commemorate Victory Over Japan Day, otherwise known as V-J Day.
"To those of us who served in the Pacific Theater, V-J Day will always be Aug. 14," said Pearl Harbor survivor Jay Groff. "It's the day that Japan surrendered even though the formal ceremony took place in September."
Due to time differences and the international dateline, some countries observe V-J Day on Aug. 15 while President Harry Truman declared Sept. 2 the official day of observation in the U.S.
Doug Gurka, a Vietnam veteran and commander of American Legion Post 24 in Alexandria, spearheaded the gathering, which included 11 veterans from WWII along with many more from Korea, Vietnam, Desert Storm and Iraq and Afghanistan.
"These are America's heroes," said Col. Mike Mixon (USAF ret.). "I am standing on the shoulders of giants."
Volunteers from Team Red, White and Blue joined members of Post 24 to assist the veterans, who shared some of their wartime experiences.
"When we heard the news of Japan's surrender, we weren't sure if it was a joke," said Ching, who was a teenager living in Pearl Harbor when it was bombed in 1941. "But standing aboard the USS Missouri as the formal surrender was signed, we realized that the war was finally over."