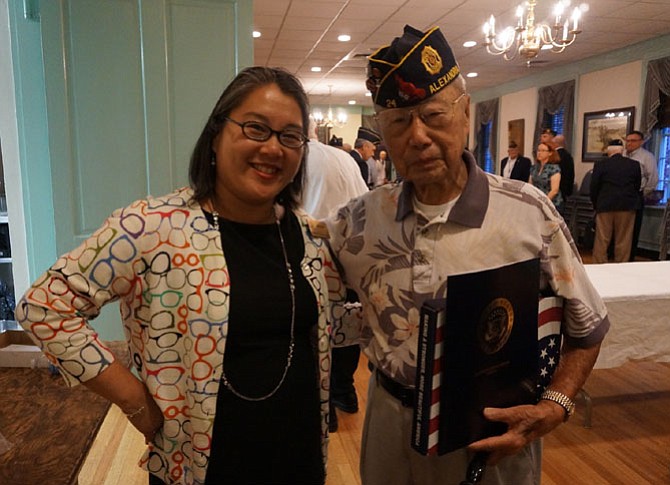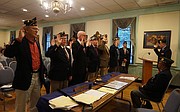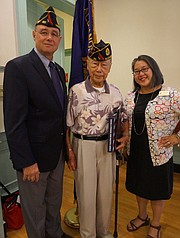 Vietnam veteran Jim Glassman was sworn in for his third term as commander of American Legion Post 24 in Alexandria during a June 10 ceremony to install the organization's 2015-2016 slate of officers and board members.
"The American Legion has worked hard to protect our veterans," said Dan Dellinger, the 2014 national commander for the organization. "We are here to honor those who have served our nation and I salute Post 24 for your continued efforts to help those in your community."
Dellinger, a long-time critic of the Department of Veterans Affairs' handling of medical care at VA facilities, was on hand to administer the oath of office during the installation ceremony at the Legion's ballroom in Old Town.
Also attending the ceremony was Anh Phan, a representative of U.S. Sen. Mark Warner. Phan made a surprise visit to present World War II veteran Col. Kim Ching (USAF, ret.) with a flag flown over the U.S. Capitol in recognition of Ching's service and 90th birthday May 25.
"I never expected anything like this," said Ching. "I am very honored by Senator Warner's kindness."
In addition to Glassman, newly elected officers include: Jerome Schorr, first vice commander; Henry Dorton, second vice commander; John Bordner, third vice commander; Adjunct Dick Evans; and finance officer Doug Gurka.
Executive board members include Scott Allen, William Aramony, Dan Burke, Charlie Euripides,Warden Foley, Patrick Hawley, Mike Mixon, Sam Moore, John Napolitano, Kelly Nierenberger, Stacy Osterhoudt, Chris Ryden and Al Soto.
"American Legion Post 24 has been helping the veterans of our community since 1920," said Glassman, who was Virginia's Legionnaire of the Year in 2013. "Our mission will always be to honor those who have and continue to serve our country."
For more information on American Legion Post 24, visit www.VALegionPost24.org.