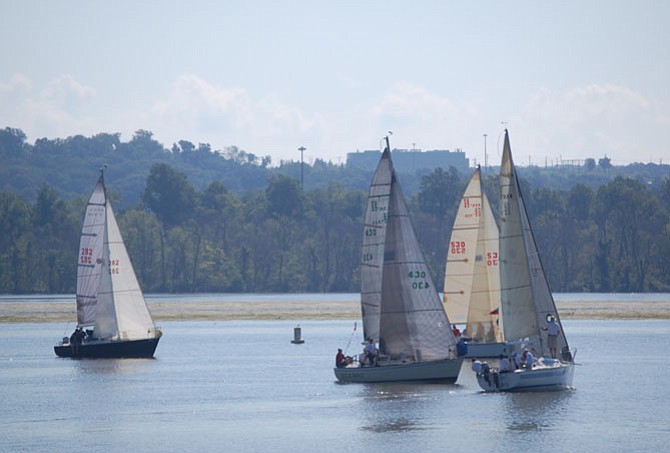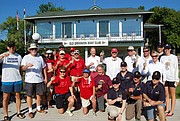 The Old Dominion Boat Club, drawing on its 135-year history, held its first ODBC Cup Invitational Regatta on Saturday, Aug. 20. The highlight of the races was the international division featuring crews from Great Britain, Australia, Canada and the United States. The USA sailboat won the four-race series on the Potomac.
Each international crew sailed equivalent S2 7.9 class boats on a course between the Wilson Bridge and Reagan National Airport. The start/finish line was a buoy opposite the Boat Club's south pier. Aaron Boesenecker skippered the winning USA boat, "Too Many Cooks," which was sponsored by the ODBC. John Stanley-Whythe led the second place British craft, Australian Pete Leavy's crew was third, and Canadian Paul Dubras skippered the Canadian boat.
In pre-race ceremonies at 9 a.m., the ODBC regatta committee assembled the sailboat crews on the club's dock. Alexandria Mayor Allison Silberberg offered brief remarks, and everyone hoisted a champagne toast to successful races. The mayor also helped present awards during a post-race cookout at 5 p.m.
Silberberg provided the inspiration for the regatta when she served as an honorary crewmember of the ODBC boat that raced against a British-crewed sailboat during the 2014 Labor Day weekend. That race was part of a series of US-UK competitions that formed part of the city's commemoration of the British Navy's raid on Washington during the second year of the War of 1812. In her post-race remarks, she urged the Boat Club to host regular regattas in the future, and the club's Regatta Committee took her advice to heart
Five years after its 1880 founding, the Boat Club staged its first rowing regatta, one featuring its own members. In 1887, the ODBC hosted a commonwealth-wide State Regatta, formally called the Virginia Association of Amateur Oarsman. During the Aug. 20 sailing regatta, area high school athletes who form the 2016 ODBC Select Crew team rowed down to the club during the opening ceremony to show support for the sailing crews.