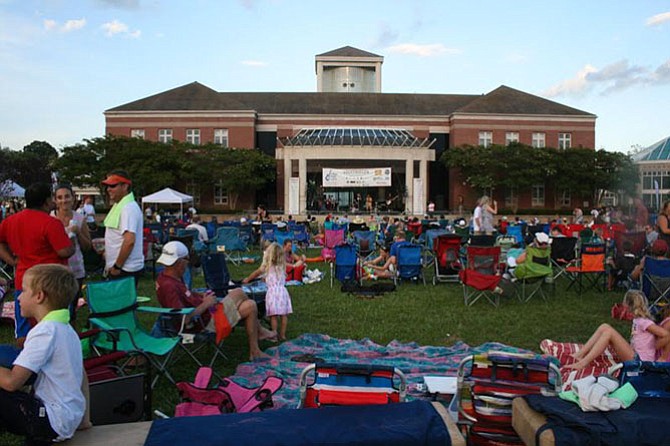 Despite the fierce Herndon-South Lakes high schools rivalry, Herndonites and Restonians have more in common than they do differences. Not the least of which, residents from both towns share a lively and vibrant social scene.
It's gotten to the point where point of residence says little about which locations appeal to you. While the towns aren't quite combined enough yet to merit a "Brangelina"-style celebrity nickname (nor does it quite have the right ring: Hernston? Resdon?), there's no denying that together they are much more than the sum of their parts. The benefit of living in Herndon is every Reston attraction, and vice versa.

No matter the town you're currently tenanting, the following highlights are open to you. There's something for everyone, from wild adventure to peaceful walk-about. Whether you're new to the area or just visiting, make sure you fill your weekends with one (or all!) of these.
Make a Splash at the Water Mine in Lake Fairfax Park
Lake Fairfax Park has it all: the eponymous lake, mountain-biking trails, grills and picnic table. But in one significant feature does it go above and beyond. Inside its bounds is the popular local water park, the Water Mine Family Swimmin' Hole.
The Water Mine is filled to the brim with aquatic adventure. There's an interactive water playground, a lazy river, and slides of all lengths and inclines for the adventurous aquanaut. Rob Robinson, 40, was waiting in line with Nikki, 35, and Laila, 20 months. According to Robinson, it's a "good place to bring elementary aged children. Basically, it's safe and secure for them. The highest depth is four feet, it's family-oriented." Most importantly, "you can bring in a cooler and have your own snacks," a big bonus for any family on a trip.
In a nearby pavilion, Melvin Jones, 69, and Aaron Greene, 71, set up for the Chantilly Baptist Annual Sunday School Picnic. They were expecting a crowd of at least one hundred people. Jones appreciates the convenience and congeniality of having an event at Lake Fairfax. "It's beautiful out here. Whenever we get this spot right up in here, it's beautiful. We've got a good view, nice facility, nice accommodations." Added Greene, "it's a good central point, it's easy to set up, and the kids will be saying, 'hey, we need to go to the water park!'"
Shop and Dine at Reston Town Center
Where once stood a humble cow pasture, now stands the archetype for the quickly developing architectural phenomenon, "Urban Light." Urban light aims to bring the best of both words: all of the commercial benefits of a city center with all of the personality of a small-town main street. Only 26 years old, Reston Town Center has rapidly become the heart of the area's social scene.
Ask any group of locals to name their favorite part about Reston Town Center, and you'll be swamped by a chorus of enthusiastic answers. In addition to high-end shopping and dining, RTC, in the local parlance, is chock full of events and activities.
There are public art installations, such as the one currently featuring work by American sculpture artist Patrick Dougherty. Happy hour sales attract young professionals, eager to network over craft beers and fancy wine. Sunday mornings, sporty types meet for public fitness classes in the pavilion. Parents appreciate Bow Tie Cinemas' convenient central location, perfect for dropping off a tween date while retaining the appropriate "embarrassment-free-radius" by shopping next door.
As the year proceeds, each new holiday and season is met by the appropriate hoopla: parades, ice skating, sing-alongs, and more. Visitors can find the complete events list by visiting www.restontowncenter.com.
As Gigi Harwell, 64, a longtime Herndonite, says: "Every city, every town tries to replicate the Reston Town Center. They can not do it! I've been to different areas, and they can not do what Reston Town Center has done. And that's what I like about it."

Visit the Past in Downtown Herndon
Whereas Reston Town Center has a frenetic energy to match its newish birth, Downtown Herndon's more mellow vibe befits its aged stature. Herndon was founded as a settlement in 1858, but began truly thriving with the arrival of the WO&D railroad in the early twentieth century. Easy come, easy go: in 1968 the railroad was converted into a hike-and-bike trail, and with it came the transformation from industrial stop to small-town feel.
Downtown Herndon remains proud of its history. The old train station was converted to the Herndon Depot Museum. Inside is railroad memorabilia, artifacts from Herndon's yore, and information on the town's namesake, Captain William Lewis Herndon. Nearby is a decommissioned red caboose, cheerfully clambered on by children peeking into the past.

Historical pride aside, modern Herndon has much to brag about as well. There's a delightful collection of ethnic restaurants. The red brick architecture is pleasing, creating a picturesque view for happy ice-cream lickers sitting on the scattering of benches.
Probably the most popular location to visit is the Great Harvest Bread Company. "They give you free samples. My grandkids love that. We go sit on the bench outside and feed the birds and eat the bread for breakfast," says resident Sue Pugh. Wild life and locals alike are fans of Herndon's culinary chef d'oeuvre.

Stretch Your Legs on the W&OD Trail or the Paths Around Walker Nature Center
The W&OD trail used to be the Washington and Old Dominion railway line during the heyday of the steam engine. Now it's a 45 mile-long asphalt bike trail that passes through the heart of Downtown Herndon and right next to Reston Town Center.

Parts of the trail are quiet and empty; in other sections the ground practically hums with the whizzing of bicycles and the patter of jogging feet. At select intervals are benches and water fountains for exercise-junkies needing a break. The Reston Runners are big fans of the Green Lizard Cycling shop, which according to general consensus, has the best espresso in the area. Coffees and smoothies refuel hikers and bikers, as the Green Lizard mechanics get their machines into tip-top shape.
Not everyone uses the W&OD to get in shape. Matt Kim, 18, recently went for a short walk along the trail with his younger brother, Daniel,10. Forget the scenery, the main attraction was "the small bird Pokemons and rats" (officially, Pidgeys and Rattatas) available for the hunting. Yes, that's right: the W&OD is the perfect place to play Pokemon Go. Matt says that he and his little brother appreciate the trail for its convenience and safety, since "he (Daniel) can't really cross roads that much by himself, so I guess just being able to walk in a safe, car-free environment is good for him."
For kids whose digital wildlife spotting inspires a return to nature, the Walker Nature Center runs various environmental education programs. Almost no age is too young; Reston's littlest members have a program dedicated specifically to them "Babes in the Woods" for ages 18-35 months. Adults can learn about subjects such worm composting or fall container planting in assorted programs.
The Walker Nature Center also acts as a hub for the myriad walking and running paths that spiral through Reston. There exists 1,300 acres of open space in the town, and the center has the low-down on each and every one of them. Walking the trails is free; programs are fee-based. More information at www.reston.org.
Look Your Food in the Eye at Frying Pan Park
The evocative name surely unnerves the pigs and cattle living there, but they have nothing to fear from Frying Pan Park. It's where they go next that involves culinary equipment. The farm today operates as a "frozen in time" historical park, showing modern day city-dwellers the agricultural life their grandparents might have enjoyed.
There's a barn filled with antique farming equipment and more ancient thrashers and plows scattered about the property. At Kidwell Farm, children can get to know draft horses, goats, chickens, sheep, and rabbits. Especially exciting is the new litter of baby piglets, fourteen in all, as proudly shown off by Lily Dunham, 18, a freshman beginning her veterinary study at NVCC. Some will be bought by local farms, others will go to young 4-H participants, and a lucky few will stay at the Park, living in styes like Hogwarts and Hammelot. Every so often, the farm will have a presidential guest: the pardoned Thanksgiving turkey, saved from the White House table, will peck happily at the Virginian soil.
On weekdays there are often school trips, but events at the park run the gamut from birthday parties to free bluegrass concerts. Seasonal events include the Easter Egg Hunt, a Scarecrow Making Workshop, and Christmas on the Farm. If you go Friday mornings, you'll be able to participate in a wagon ride driven by the knowledgeable volunteer Jeff Smith. He'll tell you what happens to the milk, why not to eat the Farm's corn, and if you're lucky, where Frying Pan Park got its funny name.
Wei Lu, 52, enjoys watching the horses as they practice for equestrian competitions. He's a big fan of the park and especially the old John Deere equipment. According to Lu, "it's kind of rustic, but it's very precious."
Spend Time in Lake Anne Village Center
When Robert E. Simon, Jr., broke ground on his marvelous utopian settlement, his first project was carving out the 30-acre Lake Anne. Along its edges, he built the beautiful Lake Anne Village Center. He envisioned a thriving, European-style city center, where residents could sit sipping cappuccinos and admire the sparkling rainbows made by the lake's blustering fountain.

Residents have stayed true to their founder's vision. Today, the center thrives as shoppers visit its locally-owned businesses - no chains allowed! There's an art gallery, restaurants, community center, and the Reston Historic Trust & Museum for the historically inclined. There's even a "nanobrewery" (one size smaller than the popular microbrewery craze sweeping the nation). Lake Anne Brew House sells small-batch, hand-crafted beers with names like Lake Anne Skinny Dip Kolsch and Reston Red Ale.
Residents and visitors enjoy sitting around the fountain in the middle of the plaza. "I love it. The first time I visited with my girlfriend and I thought, this is great! My son would love this; he's six years old. And I love the kettlecorn. The atmosphere is great near the water. And it's friendly and good for kids," according to McLean resident Wendy Ko, 35. Her son, Alex, 6, is a big fan of the fountain, but not without reservations: "It has lots of splashes, but it's not very deep." That didn't stop him from getting soaked, in the company of about ten of his peers.
On Saturday mornings, the village center is filled with hustle and bustle as the Reston Farmer's Market sets up. Tina Barrett, 79, has been a Herndon resident since 1960 and is a farmer's market enthusiast: "The Reston farmer's market is great. It has everything, vegetables, people selling wares. You name it, they have it there!" True to her word, you can get everything from vegan burgers to women's clothing while walking in the bright sunshine.
Last but not least, the water feature itself provides residents with entertainment. Surf Reston rents paddleboards and offers lessons. For the uninitiated, paddleboarding is a water sport where one stands on a long, flat surfboard and uses an oar to propel oneself through the water. The Reston Association also provides hourly boat rentals for those who prefer their water sports with a lower center of gravity.
Work Out and Make Friends with Reston Runners
What're the Reston Runners all about? In a word, breakfast. According to Mary Goebel, 69, "we run so we can eat!"
The running and walking group gets together every Saturday and Sunday morning. They run or walk, depending on preference, a pre-assigned route pausing for drinks at strategically spaced water stations. Afterwards, they'll gather in a sweaty circle at Reston Town Center and enjoy coffee and company.
These athletes span multiple generations, from college students home for the summer to senior citizens. In addition to providing running routes, the group is an excellent place to meet people and make friends. Manfred Boehringer, 69, has been with the Runners for seven years now.
"It's actually my life now. I meet people to run, to bike, to ski. I retired in 2009 and since then this has been my social world. We even went to the zoo yesterday. The best thing about Reston Runners is that we have all kinds of people. It's easy, Reston Runners is very open."
Beyond visiting the zoo, Reston Runners do a variety of events and trips together. Walking the Camino de Santiago in Spain and along Hadrian's wall in England are just two of many international trips that John Nusbaum, 72, remembers fondly.
Anna Newcomb, 52, an ex-president of the group, touts their niche programs. Previous years have featured Youth in Motion, a running program for kids ages 2-12. Currently she helps organize the women's training program. The "Couch to 5k" program helps beginner female athletes train for their first 5,000 meter race. Women receive mentoring from previous program participants, and learn the basics about running culture. "It's a very popular program among a lot of people who have just started to run. There's also a little education every week, about clothing or nutrition or whatever has to do with entering into the athletic world. It's a very sweet program."
Saturdays and Sundays are the staple runs, but at different points in the year there are Wednesday night trainings, Tuesday/Thursday evening runs, and Tuesday/Thursday morning meet-ups. More information can be found at www.restonrunners.org.

Listen to Live Music at Friday Night Live and Concerts on the Town
Rock and roll has never been so family friendly. On the Town Green in Downtown Herndon, little ones bounce to the live music as parents recline in lawn chairs. Friday Night Live has been Herndon's go to outdoor summer concert series for over twenty years.
Though the median age skews elementary, that's not to say there's nothing for adults. Stephanie Harrison, 28, has been attending for five straight years. What brings her? "Good beer and good music." What else do you need?
And if you didn't get enough music on Friday night, never fear. Herndon starts the weekend; Reston finishes it. Concerts on the Town at Reston Town Center provide another night of live listenin'.
Randy Boone, 56, attends the series every summer. He's a fan of the variety. "Jazz, fusion, every year it's something different. You could get rock, you get reggae, just the different variety of music is nice. It's always good music." However, he warns that all visitors should come prepared. Be sure to bring a lawn chair, water, and a snack!
Unfortunately for recent comers, both of these series have their last shows this upcoming weekend, August 26 and 27.
Kicking yourself for having missed out on great music? Fret not. (See what I did there?) JamBrew brings local bands back to the Town Green beginning Friday, Sept. 2 and carrying on throughout the month.