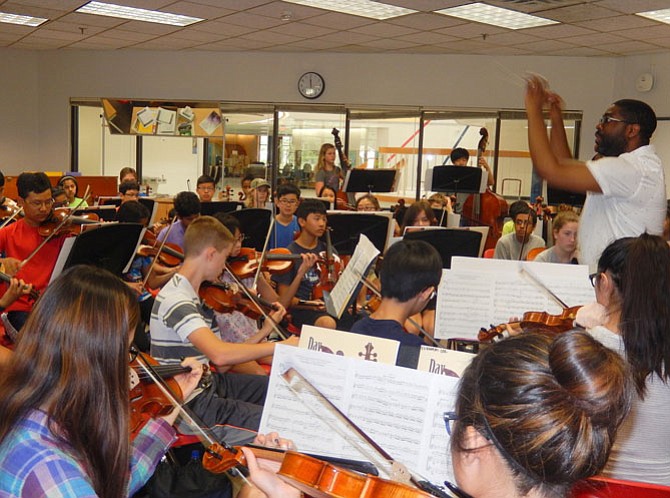 See more Band and Orchestra camp photos on Facebook.
Daniel Starykh has been playing trumpet for a year and came to Franklin Middle School's 30th annual Band and Orchestra Camp so he could improve. Happy with his decision, he said, "My teachers are really nice and they help a lot."
A sixth-grader at Greenbriar West Elementary, Daniel chose the trumpet because he likes its sound and "it's louder than other instruments." At camp, he enjoyed talking with his friends and playing full-length concerts during class." And Daniel would recommend it to others because "the teachers will honestly decide what group to put you in and help you the best they can."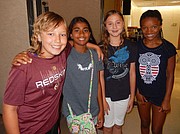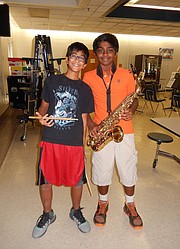 Colin Powell Elementary sixth-grader Isaac Kim also plays trumpet. "My dad played it, so he wanted me to develop his skill, too," said Isaac. "I practice with him and even did a duet with him at his college." The first year Isaac came to the camp, he played cello in an orchestra; but this time, because he changed instruments, he played in a band.
"I learned how to play higher and lower notes and how to play with a bigger band group," he said. He especially liked practicing with Greenbriar West and Rocky Run Middle Band Director Dan Hill. "You get to play challenging music," said Isaac. "And it becomes easy when you learn it."
Some 625 students attended the camp, June 29-July 21. Each day, band students had two rehearsals, one sectional class and one instrument class. Some also took a chamber music class. Orchestra students had two, daily ensemble rehearsals, sectional and instrument classes, plus music theory. And some of them played in the chamber orchestra.
Suzanne Donnelly, an Oak Hill Elementary sixth-grader, attended camp for the second time. She's been playing the oboe for two years. "My sister used to play it and I thought it would be fun," she said. "It's unique and not a lot of people play it. And camp is really fun; all the band directors are really nice and everyone's happy here. You make a lot of friends and learn a lot."
Lees Corner sixth-grader Tara Sankner was there for the first time. She's played the flute for a year and likes it because "It's an unusual position holding an instrument to the side of your body. I enjoy playing it and came to camp to learn more than what I learned in fifth grade."
And she did. "I learned the chromatic scale and all the sharps, flats and high and low notes," said Tara. "And I also liked meeting new friends."
Like Daniel, Cub Run Elementary sixth-grader Layton Vu has fun playing the trumpet because it's loud. He, too, learned the chromatic scale at camp and liked the music he got to play. He'd recommend this camp to others because "it helped me play the trumpet better so I can play in my band at school. And later, I can be the bugler in my Boy Scout Troop, 7369."
Suhas Gangadari, a Rocky Run seventh-grader, has played saxophone since fifth grade. "It's a challenging instrument, and it's satisfying when you get the right style," he said. "And I like how it sounds." It was his second year at camp. "In school, you practice two hours a week; and here, it's four hours a day," said Suhas. "So you get a lot more time. And it's also fun, so you don't feel like it's that much time."
He says young musicians should attend the camp because "It's worth like years of school practice. The teachers are more funny than strict and you play with people at your own [skill] level."
Rocky Run classmate Mickey Kurahatti has played percussion for four or five years. "I used to take piano lessons, but I saw drums on display in a store and I was fascinated with them," he said. "So my dad asked if I wanted to take drum lessons. I like sometimes controlling the tempo at my own will, and drummers are called the downbeat of a band and keep it going."
He, too, enjoys camp because "we get more hands-on experience playing. We also get more attention when they're teaching us to make us better. I learned that, when you don't get something at first, slow down and section it out." Mickey also likes performing in a group with people at his own level. "It's easier to play when your peers aren't taking their first steps and you're miles ahead of them," he said. And, he added, "The food at lunch is delicious."
Franklin Middle Band Director Kurt Holscher taught and led the camp's concert band. He said the camp "keeps students playing over the summer so they don't lose all the skills we taught them during the year. And most of them have a real desire to be here, so they work really hard to improve."
Actually, he said, "I like getting to know the kids before they come to school here. And also, seeing kids from all over the area come together to play music is something really special at the end of the summer."
One of them was Chantilly resident Keith Scroggs, a sixth-grader at Eagle View Elementary. He's played B-flat clarinet about two years and chose it because "it has such a wide range of notes and you can get so many different sounds, feelings and emotions coming from the same instrument. It's like a piano you can blow through."
Glad to be at band camp, he said, "It's a way I can be with people who are like me and take playing their instrument seriously. So it's a fun experience."
Meanwhile, Westfield High sophomore Alan Battison has played the clarinet since fifth grade. "It's difficulty makes it a lot of fun to master," he said. In his fourth year at camp, he said, "Me and my cousin come here every year and we play in the same band, the symphonic band. We have a lot of fun playing the music and practicing it together. It's a nice place to make a lot of friends, and I like playing in a big band with lots of experienced individuals."
Jared Hong, a Rocky Run eighth-grader, was at camp for the second time. "I played sax through sixth grade and then switched to baritone sax at camp last year and liked it," he said. "It's a little easier to play and the tone is deeper."
At camp, he said, ""I've learned how to create better tone with my sax. And I like how it teaches kids to play instruments outside of school and it keeps you busy in the summer, too. I like the different classes and teachers and learning different things." So Jared would advise other students to come to it because "It's a good opportunity and teaches you everything about band [or orchestra]. And if you're new to playing, you can be a little ahead of everybody else when you go back to school."