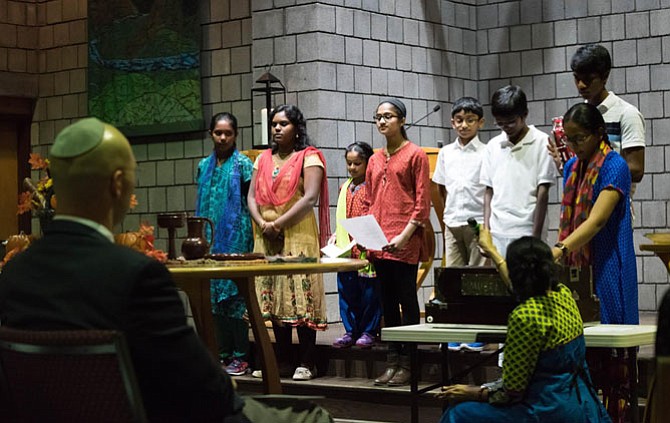 Burke — Co-pastors at Burke Presbyterian Church Rev. Meg Peery McLaughlin and her husband Rev. Jarrett insist the interfaith Thanksgiving service held in their worship hall on Nov. 22 was not in response to any perceived disunity in the country following the Presidential election.
In fact, this was the 33rd annual service participated in jointly by Burke Presbyterian, the Congregation Adat Reyim in Springfield and Saint Mary of Sorrows Catholic Church in Fairfax.
Ezher Bloom Mosque of Fairfax joined a number of years ago, Jarrett said, and in 2013 members of St. Andrew's Episcopal Church of Burke and the Durga Temple of Fairfax Station also became involved.
"We feel fortunate to lean on the good interfaith work of generations before us and that this kind of work is Burke Presbyterian's DNA," said Jarrett.
Jarrett's wife Meg admitted, however, "We really needed it this year. Post-election, there's a lot of anxiety about the country."
The huge turnout from multiple faith communities Tuesday night, Meg called "a huge sign of hope."
"You can lament about the hate in the country right now," she said, "but there's a great sense of readiness to act in a different way, that we're capable of being different and being together."
The service featured traditions of prayer and musical performance from Christianity, Islam, Hinduism and Judaism, including individual groups from the participating faith communities and a combined choir.
Jarrett delivered the thanksgiving message, or sermon. In it, he meditated on Psalm 46 from the Bible, including the line "God is in the midst of the city; it shall not be moved; God will help it when the morning dawns."
He referenced Spanish-speaking illegal immigrants being confronted at a worship service with a banner spray-painted telling them it was for "whites only," a man wearing a "Make America Great Again" hat being assaulted while riding the subway and a Muslim girl being called a terrorist for wearing a hijab to school.
"I refuse to believe that God is unmoved by this or anything else that undermines any one of God's creations," Jarrett said. "And so I don't want to be unmoved either.
"When we are moved in our hearts – when we allow the pain of our neighbors, especially those who are different from us, to move us in here," Jarrett began to conclude, "when we are honest about what troubles us and when we listen to one another's stories and when we hold those secret hurts together, I believe that is when our unity becomes stronger, when we dig in even deeper until we cannot, in fact, get tossed around by the raging of the nations."
In an interview, Meg reiterated that the hard work of being united is not about "polishing off our differences," but rather celebrating them.
"It's OK to not be the same. We don't dilute our faith. But how can we be different, distinct, and still be friends?" she asked. "We need to understand our differences. Sameness, we've had enough of that."
Another interfaith service is scheduled to be held at Congregation Adat Reyim, located at 6500 Westbury Oaks in Springfield, Jan. 13 at 8 p.m.