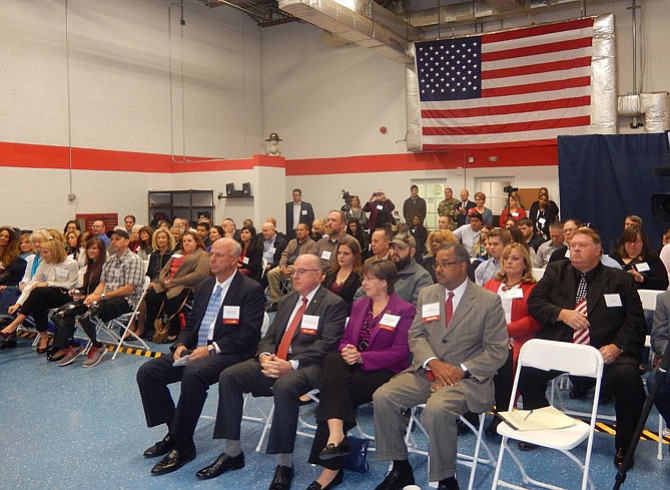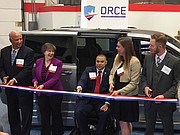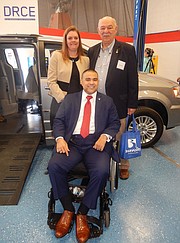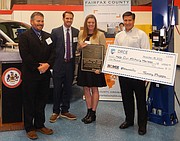 Owned by two military veterans, Driver Rehabilitation Center of Excellence helps people with disabilities drive adapted vehicles — and change their lives.
This Chantilly business was founded by Josh Himan, wounded while serving with the Marines in Afghanistan, and Tammy Phipps, a retired Army major, occupational therapist and certified driving rehabilitation specialist. And on Nov. 18, at 14101 Parke Long Court, Suite E, it held its official grand opening.
Himan became a quadriplegic as a result of an IED (improvised explosive device). After several years recovering/rehabilitating from his injuries, he wanted to drive again, but no therapist could help him do so until he met Phipps at Walter Reed Army Medical Center in Washington, D.C.
In 2008, she'd created the first and only comprehensive driving-rehabilitation program in the Defense Department, so she devised a custom-plan that successfully got Himan back on the road. He was one of hundreds of severely injured wounded warriors she'd help regain their independence, but he knew that many more needed it, too. So together, they established DRCE to make driving accessible to everyone.
Summer Simmons came from Chesapeake, Va., to attend DRCE's grand opening. It was important to her because that's the company responsible for her husband being able to drive again.
Her husband, retired Navy Lt. Steven Simmons, is a paraplegic. "When the Fukushima [Japan] nuclear reactor melted down in 2011, he and his ship — the USS Ronald Reagan — were the first to respond with humanitarian help," said Summer Simmons. "He was exposed to high levels of radiation and suffered a spinal-cord injury caused by nerve damage from this exposure."
She and her husband were introduced to Tammy Phipps at Walter Reed hospital in 2013, and Phipps worked with him to get him back behind the wheel. "She taught him to drive again, using hand controls, and gave him back his independence and the ability to not depend on me for everything he needed," said his wife.
"This gave him one thing back and a little hint of himself the way he used to be," continued Summer Simmons. "It gave him freedom – and me, too. And with the help of Laurie [Hollander] and Marybeth [Vandergrift], we received a van from HMH in 2013."
As for DRCE opening in Chantilly, she said, "I think it's amazing. I'm a proud supporter of Tammy and Josh. They're going to make such a difference in this community. And as an Army veteran, myself, I'm proud to see one more veteran-owned business here."
Josh Himan and Phipps started DRCE (Driver Rehabilitation Center of Excellence) so people with disabilities could be able to drive again. And Himan, a quadriplegic, knows firsthand how much it means to them because he's been through it, himself. After suffering a devastating injury in Afghanistan, he had to learn how to drive a new way; and in 2013, he finally did it.
"It was the same feeling I had at 16 when I drove without my parents for the first time," he said. "I was able to be efficient and drive myself to work, school and haircuts and not depend on anyone else to take me anywhere.
The grand opening was attended not just by dignitaries and business people, but also by a slew of wheelchair-bound people grateful for the company's help.
"When you work with a company, you feel a kinship with them," said Gerald Gordon, president and CEO of the Fairfax County Economic Development Authority. "But in 33 years, I've never felt more pride than standing before this group of people today and those who have made this [business] happen."
After the EDA helped DRCE find this spot to lease, the company came to Chantilly in August. Delighted, Gordon said, "It's a wonderful opportunity for us to help people who are going to help a whole lot of others be more independent, productive and lead better lives."
Welcoming DRCE to the area, Supervisor Kathy Smith (D-Sully) said, "This is a great place to have a business; anything we can do to help you, we will. We want to ensure that you have what you need to be successful."
Antonio Doss, director, Washington Metropolitan Area District Office, U.S. Small Business Administration, said his organization helps small businesses start, sustain and grow. "But Josh and Tammy help people get connected to who they really are through mobility and getting back behind the wheel," he said. "So it's great to see this – and at the SBA, we support businesses like this."
Keynote speaker was John Harvey Jr., Virginia's Secretary of Veterans and Defense Affairs. He oversees all veteran-related issues in the state. "There's no place I'd rather be today than with Josh and Tammy," he said. "This is so important; [it's] changing lives that were already changed — and changing them back. This is an extraordinary enterprise."
As a Navy vice admiral, he visited patients and their families in Bethesda, and they'd asked him how they could drive again. "But we had a lot to learn then about what they were going through and how to get people who'd lost multiple limbs back to some semblance of a life, We realized how woefully inadequate what we had was and that the VA [Veterans Administration] was unprepared."
"We still haven't solved it, but we've learned an awful lot," continued Harvey. "If we can't give someone a limb back, giving them a feeling of independence is critical. But it takes people like Tammy to really care, see the need and have the extraordinary love in her heart and resources of spirit.
"And it takes people like Josh – who's come through his own journey, with the support of his family and his own strength of purpose and will – to bring this to reality. Think of what this will do for a military person facing the rest of their lives with extraordinary challenges. Tammy and Josh give them their lives back, and it's an extra-special act of great generosity and richness of spirit."
Noting that Virginia has the largest percentage of veterans in the country, Harvey said, "This type of activity is so desperately needed by those men and women who've done right by us. And Gov. McAuliffe knows that investing in these veterans is investing in Virginia's future."
Also there was Marketing Director Joe Garnett of BraunAbility, which manufactures accessible vehicles. "These are heroes who've paid dearly for their country, and having a wheelchair-accessible vehicle is critical to them," he said. Our tagline is 'Life is a Moving Experience,' and who deserves it more than our wounded warriors?"
Stressing Phipps's work at Bethesda, BraunAbility Sales Director Matt Swope said she gave so many injured veterans the "keys to driving" again. "It's just everyday life to others," he said. "And there's no greater sense of freedom. Ralph Braun started BraunAbility 44 years ago and brought mobility to thousands of people across the world, and Tammy is of of the most unsung heroes of our nation."
Swope then presented her with the Ralph W. Braun Spirit of Mobility award, plus $5,000 to donate to the charity, Help Our Military Heroes. In response, Phipps said, "I've been honored to work with you, all these years. I'm ferociously protective of my brothers and sisters in arms."
Next, Himan shared his story, telling how running over an IED in a vehicle, about seven years ago, left him paralyzed from the chest down. "Inside, I was shattered," he said. "All these plans, I could never do, and I had flashes of suicidal thoughts." Then a Marine colonel told him he could use his degree in business finance to have a career in business and help others.
"Tammy helped me drive again and gave me my mobility back," said Himan. "I'm one of over 400 veterans she helped during her time at Walter Reed. I told her I wanted to be her business partner, and here we are today at our grand opening. It's been a lot of hard work, but a labor of love."
Phipps, of Fair Oaks, thanked her family for their support, her company's donors and HMH – a nonprofit that supports post 9/1/1 veterans' out-of-pocket costs for accessible vans – for the 74 vehicles it's given away. She also thanked BraunAbility and the county for supporting DRCE.
"We see people from age 16 to retirement, and non-veterans, too, with physical, mental, visual and cognitive disabilities," she said. "We see if a piece of equipment or an adapted approach could help them drive, and we custom-make their plan of care. We also install the adapted equipment – such as hand controls and a left-foot accelerator – in their own vehicles."
People interested in using DRCE's services may obtain a referral form at www.driverrehabcenter.com to give to their doctor to fill out. Returning it clears them to call 703-345-2990 for a driver-evaluation appointment. All in all, said Himan, "It's a great feeling helping others, and that's why we're in business."