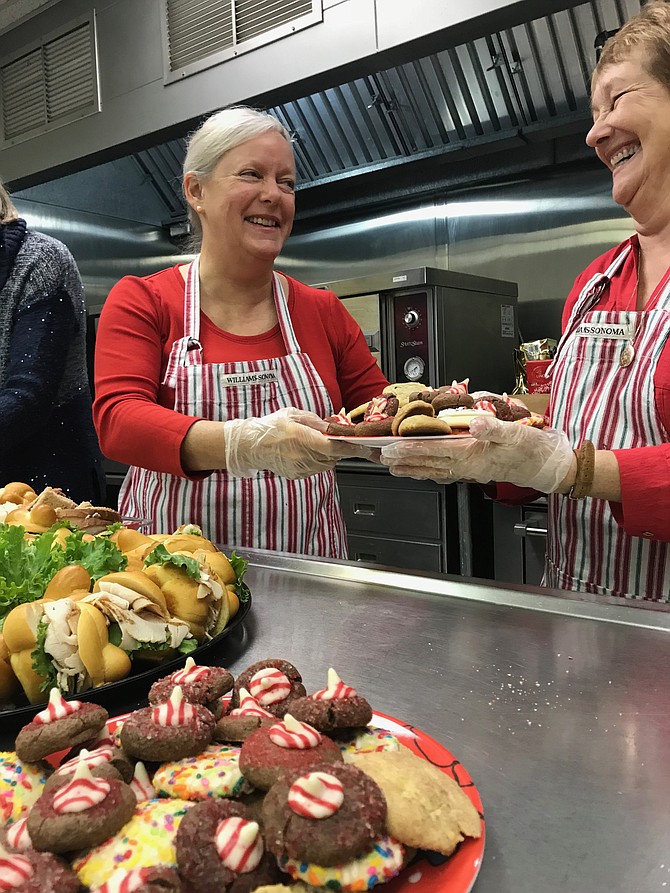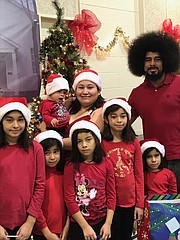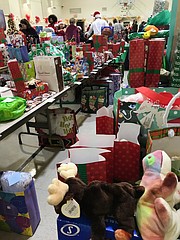 While gray skies loomed and the first snow of the season fell Saturday morning, Dec. 9, families and individuals arrived at the McLean Baptist Church, 1367 Chain Bridge Road for the production of Share, Inc.'s annual client Holiday Celebration party.
Volunteers scurried in the kitchen and the gym to put the final touches on the festive holiday gathering. Share clients from McLean, Great Falls, and Pimmit Hills lined the hallways, patiently waiting for the doors to open.
At 8:30, the doors opened, and volunteers warmly greeted each Share client and welcomed them, setting the tone for the rest of the party. In the background, local musicians played festive music adding to the holiday spirit.
Of course, the sight of Santa Claus brought smiles to both children and parents, many dressed in Santa hats or their holiday clothes, ready for that incredible moment – a visit and photo with the man from the North Pole.
After their visit, clients received donated gifts chosen for them from their own wish list. Inside were items such as gift cards, small household items, linens, clothing, and toys for the children. A light meal of donated sandwiches, fruit, and holiday cookies rounded out the event.
Chris Wilbur is the Share Holiday program chair. Wilbur said 350 clients from McLean, Great Falls, and Pimmit Hills attended the holiday party staffed by 30 volunteers.
Wilbur discussed why this event was so important to her. "The reason I love Share and working on the Holiday Celebration is that with no paid staff and no government funding, this program is truly neighbors helping their neighbors in need." Wilbur said that thus far, the nonprofit organization has served 291 families over the course of the holiday season, nearly 800 people, and done so with the support of more than 50 volunteers.
Share, Incorporated is an all-volunteer 501(c)(3) nonprofit corporation providing emergency assistance since 1969 to the less fortunate in McLean and Pimmit Hills, and nearby areas of Northern Virginia.
According to Share's website, need still exists. Their Food Pantry is in significant need of supplies, and the Furniture Program needs drivers and helpers. To make a difference in the community during this holiday season or all year long, visit shareofmclean.org for more information.