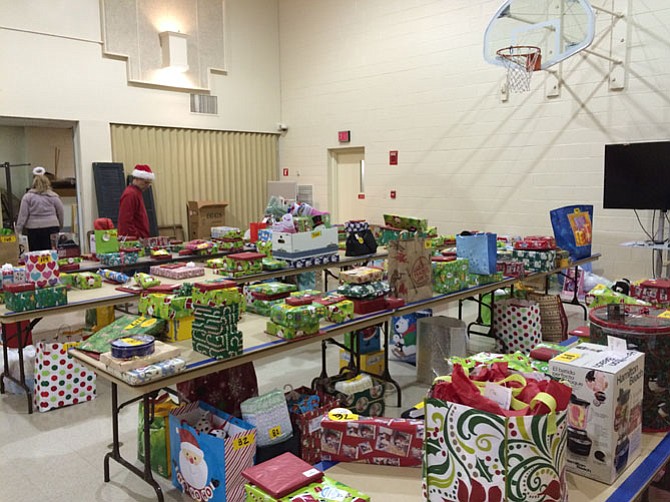 Share of McLean raises $50,000 this holiday season to give clothing, toys and gift cards to approximately 250 families in need in McLean, Great Falls and Pimmit Hills. Families are invited to a holiday celebration in December.
"I can not think of a better way to spend the holidays than to spend all the months to prepare this program and then see the clients at the party, old ladies dancing, children opening gifts," said Chris Wilbur, the holiday program chair of Share of McLean.
"To me, that's the true spirit of the holidays," she said.
More than 50 volunteers serve around 640 individuals in need who live in McLean, Great Falls and Pimmit Hills areas.
"I love talking to the kids and hearing what they are doing in school, what sports they play, and what character they dressed up as for Halloween," said Lisa Waldow, a volunteer.
Waldow has lived in McLean for five years.
"It never occurred to me that there are so many families struggling to make ends meet. It was surprising to see the other side of the coin. All of my other volunteer work in McLean has been fundraising, and our community is very generous. I think a lot of people are simply unaware of this huge need in our midst."
"Many people don't realize that in one of the wealthier communities in the United States, we have so many needy people right here," said Wilbur.
SINCE 1969, Share of McLean has provided emergency assistance to the less fortunate in McLean and Pimmit Hills and Great Falls.
Programs include family emergency financial assistance; distribution of food and used clothing; recycled furniture; and transportation services for seniors.

Share also provides clients with grocery gift cards and gifts during the holidays, refurbished computers and school supplies.

Share is an all-volunteer organization, so they are able to say that 100 percent of donations go to the direct benefit of their clients.
Food Pantry and Clothing Rooms are open Wednesday and Saturdays from 9:30 a.m. to noon in donated space at the McLean Baptist Church, 1367 Chain Bridge Rd.
AROUND OCTOBER, Share of McLean shifts into high gear for the holidays.
"We definitely have volunteers that come back year after year. Starting in October, we get emails saying, 'Remember me?'" said Wilbur. "For everybody involved, it just makes Christmas a little brighter."
Share clients turn in holiday wish lists in October, and Share passes the wishes to the faith communities, schools, local businesses and generous individuals.
Many wish for gift cards and grocery gift cards.
"For some people, they think giving a gift card is impersonal, but for our clients having choices to pick toys for their children and a pair of pants for them, that's part of the gift," said Wilbur.
"If someone needs bedding, they can ask for the appropriate size and a favorite color. A single mom can ask for gift cards for her children and then she can select gifts for her children that she knows they will love. Many elderly people just ask for grocery gift cards because they don't need stuff, they just need a little help making ends meet with their food budget," according to Wilbur.
The holiday program team needs to raise about $50,000 yearly in donations, as well as procure assorted gift items.
Victor Kimm, of McLean, remembers the end of one party when Share volunteers were approached by a woman who said her husband was dying. All she wanted was to be able to stay in her house to honor her husband's request. "She said the help we gave her enabled them to stay in their home," he said. "Every year, we hear stories like that."
SHARE hosts a party, which will be held Dec. 12 this year. One volunteer plays the piano for four hours throughout the party; a Santa and Mrs. Claus cheer children while a volunteer photographer takes photos for moms and dads to cherish.
"People love to volunteer at the holiday celebration," said Wilbur. "You start out with an empty gym and in the course of two days, it gets completely decorated. We have ladies that make the centerpieces, we have a man who plays the piano for four hours without a break. It's amazing."
And much of the community gets involved.
Just for instance:
Franklin Sherman Elementary School has a yearly mitten tree.
Haycock Elementary classes adopt families.
Each year, businesses, such as McEnearney Associates Realtors, adopt families for both Thanksgiving and the December holidays, and Child's Play Toys generously helps Santa fulfill his extensive toy list.
Giant Food has a wish tree and toiletries drive and provides around 350 reusable bags for Thanksgiving and the Celebration.
Trinity United Methodist and St. Thomas Episcopal have angel trees.
Rodef Shalom collected Thanksgiving grocery gift cards.
McLean Baptist provides grocery cards for Thanksgiving and various gift cards for the holiday celebration.
New Dominion Women's Club fulfills wishes and bakes cookies for the celebration.
First Baptist donates gifts cards for the holidays.
Immanuel Presbyterian donates gift cards for the holidays
Langley High School Key club fulfills wishes for teens.
McLean High School Leadership provides homeless kits.
McLean Crew Club has a gift card drive at the MHS holiday bazaar.
Many scout troops volunteer and hold drives to collect baby items or toiletry drives.
Rotary Club is providing most of the food for the celebration as well as volunteers.
McLean Preschool gathers baby items for Share's tiniest clients.