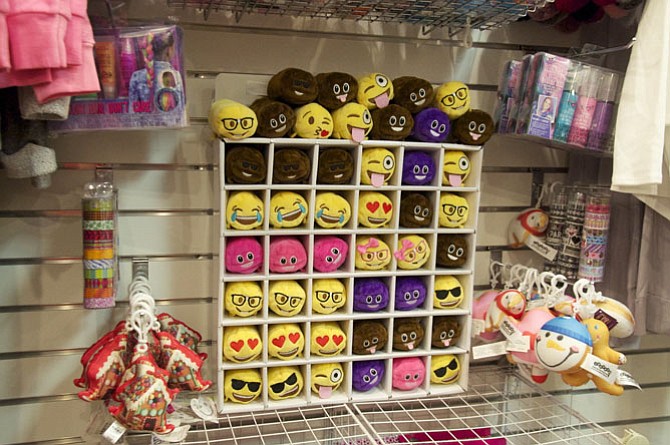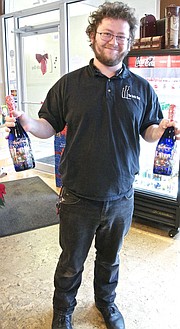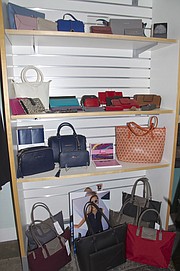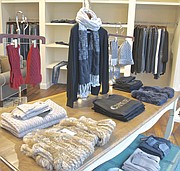 Not to bring on a Potomac panic, but soon all holiday shopping must be finished. This year, instead of driving to Montgomery or Tysons Corner malls — avoid the hassle of jockeying for a parking place, the frustration of searching through boring department stores and make it easy on yourself. Hustle to two often-forgotten shopping centers located near the Seven Locks and Montrose Road (just off I-270) intersection. No jostling through crowds, waiting in lines, or driving an hour for the same-old gifts. The best news: Local store owners will give lots of help locating that one-of-a kind perfect present.
In addition, both Potomac Woods Plaza and Park Potomac offer restaurants where, because you saved so much time finding your gifts, you can enjoy a lunch, a cocktail and appetizer or a delectable meal. Harris Teeter is also located in Park Potomac for grocery needs.
IF SHOPPING for the women in your life, head to the contemporary Park Potomac fashion boutique, Emily Grace which provides trendsetting styles and accessories. All the latest designers such as Vince, Diane Von Furstenberg, Alice and Olivia, AG Denim, James Denim, Bobi Tees, Splendid and Velvet can be found at this boutique. Best of all, Emily Grace will provide a personal shopper for styling tips, closet consultations and creating outfits.
"We have fabulous gifts for women of all ages," said sales consultant Kim Levine. "Come to Emily Grace to shop for the holidays before our unique present supply gets low. We get new things in every day — but they often fly off our shelves."
Levine has worked at the store for many years and is an expert in helping to find just the right gift. "We carry everything from gorgeous jewelry by local designer Lori Albert to jeans, jackets, sweaters, hats and gloves. Our sales team provides excellent advice at pulling together the perfect outfit for your occasion," she said. Check this store out at www.shopemilygrace.com.
NEXT HEAD UP the hill to the "neighborhood wine and beer shop." The Bottle Shop, located in the Potomac Woods Plaza, just adjacent to Park Potomac, offers quality, ambiance and education. Try to come on Thursday from 5-8 p.m. for the Craft Beer Tasting or on Friday from 5-8 p.m. for a wine tasting. Brian Low or one of the other knowledgeable employees will help pair your wines with your holiday menus or select that perfect wine or beer for a hostess gift.
The Bottle Shop marks their wines with the Wine Spectator wine ratings and also sells their beers and ales as individuals so you can create an gift of six different craft brews for that beer lover in the family. Take them a Flying Dog, Mad Scientist or, believe it or not – a Ben and Jerry's Chocolate Cooking Dough Ale. For Christmas, try the St. Bernardus Christmas Ale or a Christmas Proseco (paired with their specialty chocolates) makes a great gift too. Their website is www.mybottleshop.net.
NEED A SPECIAL gift for your daughter, granddaughter, niece or friend — or for yourself? Or is your pre-teen attending a bar/bat mitzvah or cruising this winter or spring vacation? On Cloud 9 is a one-stop shopping destination for party dresses, casual wear, swimsuits, pj's and hard-to-find special gifts. They carry dresses for infants to adults.
This is the place to look to discover lots of stocking stuffers including emojis, pillows, rhinestone bling stickers, and stuffed animals. Sales consultant Marcy Steffes said, "We are right on top of the latest trend and we cater to every girl's whim."
Owned by Carol Gowling, the store has long been a primary destination for Potomac moms and their daughters.
Learn more about this fantastic store at www.shoponcloud9.biz.
ANOTHER SHOPPING destination has only been in the Potomac Woods Plaza for a little over a year. Ibhana Boutique caters to women of all ages and sizes 2 – 20.
Owner Meena Tharmaratnam said, "I created the store in 2002 when I returned from my native India with 100 pashmina shawls. It was the year the pashmina became popular in America. I sold all 100 in the first week, and one night I sat and designed my business card and launched Ibhana a few months later."
Initially, she sold her clothing from her home, then at boutique fairs and now has several storefronts. Ibhana offers clothing, separates, dresses, pants, tunics, raincoats, and fleecewear for the modern woman looking to create a flair and ease of style.Tharmaratnam carries both Canadian and American lines including Joseph Ribkoff, IC, Samuel Dong, Tianello and Papillon Blanc.
Tharmaratnam is generous with her time and her store. She designs scarves for corporate and non-profit organizations to help them with their fundraising and branding. She said, "Over 40 commissioned scarves have been designed to date for prestigious organizations like The Washington Performing Arts Society for their 40th Anniversary, Adventist Healthcare, American Lung Association (a scarf and tie), the MMMF Fund (for their scholarship program), The Wellness Community (to support their mission of education and hope for cancer survivors), Charity Works, National Women's Business Center (for their leadership conference), the Pierians (promoting a love and learning of art), etc." She also hosts fashion shows and fundraising events in the Ibhana store. For more information about Ibhana, go to www.ibhanaboutique.com.
AFTER SHOPPING, head to Founding Farmers, Sugo, Amici Miei, Elevation Burger, Zoe's, Grand Fusion or the Wine Harvest for a meal.