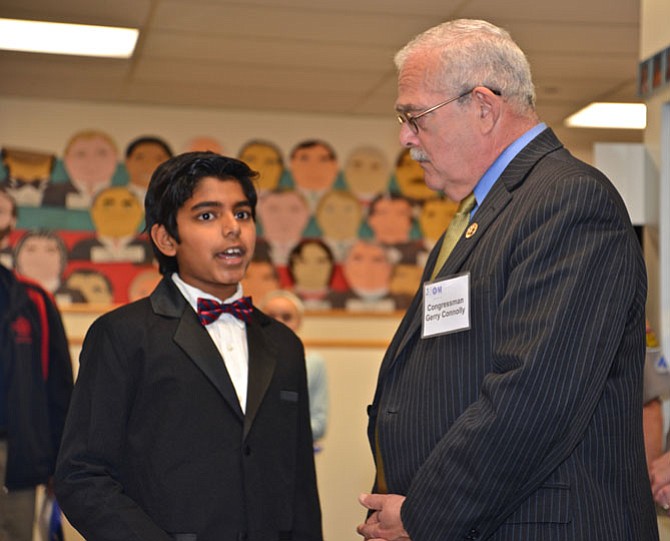 "We need people in the Science, Technology, Engineering, and Mathematics (STEM) fields today, tomorrow and as far as we can envision."
That quote came from speaker Eric Schierling as he addressed the crowd packed into the gym at the Nysmith School for the Gifted in Herndon during one of four presentations offered at the Third Annual STEM Symposium. Schierling, a director with Vencore, Inc.'s Space Group and a former Naval Top Gun Pilot, was joined throughout the day-long event by a plenitude of accomplished and engaging speakers, from former astronauts to high school and college students, a U.S. Congressman, leaders from STEM-related businesses and agencies, and school principals and headmasters. Regardless of what position each speaker held, what point in their careers at which they had
Photo Gallery
Nysmith STEM Symposium 2016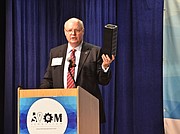 Click Photo for Flash
arrived, or whether they worked for the government, the private sector, a nonprofit, or had yet to complete their studies and enter the workforce, their remarks all contained an echo of Schierling's statement. Somewhere in each speaker's address there was a cautionary note that STEM-proficient people are not only in high demand, but in critically short supply. Thomas Jefferson High School for Science and Technology's (TJHS) principal Dr. Evan Glazer insisted that "we need to keep searching for ways to encourage our STEM-curious young people." Exposure, encouragement, opportunities and resources are key to developing the "STEM-inclined." Glazer's presentation included excerpts and numerous slides that highlighted the STEM fields with the most projected growth for the near future, as well as practical advice for parents and teachers on how to encourage STEM interest, and where to look for support and resources.
JD Kathuria, founder and president of WashingtonExec, an online media, membership and events company in D.C, is a staunch supporter of STEM education. He is so convinced that investment in STEM education is invaluable, that he launched the Symposium in 2014 to bring together the best, the brightest and the most involved to elevate STEM education to the foreground of the region's concerns.
IN THIS THIRD, and ever-growing edition of the event attended by some 2500 people, Kathuria and the WashingtonExec gathered sponsors like Aerospace, Vencore and Siemens to achieve the mission of "bringing industry and students together." In addition to the speakers' sessions, attendees were treated to more than forty exhibitors filling the hallways and classrooms of Nysmith. Some of the exhibitors, like George Mason University and Sweet Briar College, Nysmith and TJHSST represented formal educational opportunities. Others, like Fairfax Collegiate, Microsoft in Education, Patriots Technology Training Center and STEAMtrix, LLC Learning Program offered outside-the-school term STEM activities, workshops and camps.
Nonprofits, outreach groups and organizations run by kids themselves were also on hand. Robotics for Youth, Inc., which occupied a double booth, was manned by some 20 student volunteers, and still had a crowd three-deep waiting to try their hands at operating some of the robots the group had built. The nonprofit was formed just last year by three teenagers – Bharath Maniraj from Fairfax High School, Rishabh Venketesh from TJHSST, and Pranav Sukumaran from River Bend Middle School. "The Bureau of Labor Statistics predicts that there will be a million computing job openings by 2024," is one reason why co-founder Maniraj took his interest in the field to the outreach level. "We are doing our best to increase awareness among school-aged kids." The Robotics for Youth gang also serve as mentors for Lego League competition participants.
The Children's Science Center was another exhibitor that attracted significant attention, with hands-on activities and experiments available for youngsters of different ages and abilities – with a few adults who just couldn't resist mixed in. The Center currently operates at Fair Oaks Mall in Fairfax but is in the planning stage to develop a full-scale, state-of-the art, STEM-centered interactive museum at the Nokes Boulevard exit off of Route 28 in the Dulles area.
MENTORING GROUPS were also well represented. LaShaunda Ford who works at Dell, Lauren Medley from Booz Allen Hamilton, and Elizabeth Goodson with Lightower Fiber Networks were pleased to be able to reach so many young women at one venue as they offered information about the "Girls in Technology" mentoring program they belong to.
Several local youth were given the opportunity to showcase their competition-bound Science Fair projects and made admirably poised presentations explaining their work from drawing board to finished product, or from hypothesis to practice. Aaron Joy, a fifth grader at Nysmith, looked calm and comfortable as he discussed his work with U.S. Rep. Gerry Connolly (D-11) who toured the exhibits, demonstrations and projects after his speaking duties at the symposium were completed earlier in the day.
The organizers of the STEM Symposium, mindful of the ages and activity levels of many in their audience, also provided some outdoor adventures, including the opportunity to race against President Thomas Jefferson himself – at least as personified by the Washington Nationals baseball team's official presidential mascot. There were also flight simulators courtesy of sponsor Vencore, drone displays and "connected" cars with Internet access and other high-tech accessories.
The STEM symposium brochure handed out upon check in to the event described the mission of the organizers to be joining "a community of teachers, mentors, parents and local leaders to nurture a child's curiosity in the STEM fields. Linking science and mathematics taught in the classroom to impactful careers is an ongoing national challenge. Bottom Line: The opportunities for students who are STEM-proficient are endless." More information, resources, and a Parent-STEM action plan are available at www.stemsyposium.com.