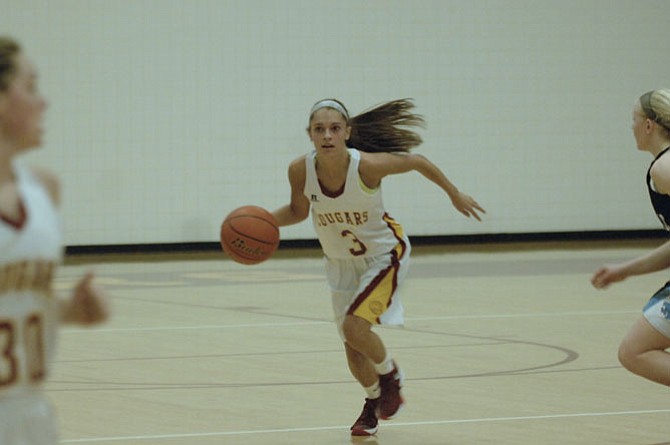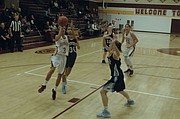 Alex Marquis drove to the basket and scored with 2:06 remaining in the fourth quarter Monday, giving the Oakton girls' basketball team a 15-point lead over visiting Centreville.
When head coach Fred Priester called a timeout after the bucket, Marquis headed to the bench unaware of what she had just accomplished.
"I just thought he was calling a timeout because we weren't playing very well tonight," Marquis said, "so I thought he just wanted to give us a new play to run or something."
Actually, Priester had called a timeout to recognize the senior point guard, who had just scored her 1,000th career point. When play resumed, the Cougars finished off the Wildcats, 47-34, at Oakton High School.
Marquis, who finished with seven points on Monday, said she didn't realize she was closing in on a career milestone.
"I had no idea it was coming, so it was definitely a surprise, but very exciting," she said. "... No one told me. Apparently everyone else knew but me."
Marquis, a four-year starter, has won two Conference 5 championships and a 6A North region title at Oakton, and the Cougars totaled more than 20 victories in each of her first three varsity seasons. Monday's victory improved Oakton's record to 17-0 during the 2015-16 campaign and the Cougars appear capable of another postseason run.
Oakton assistant coach Krista Jay said Marquis plays a vital role in the team's success.
"In my opinion, I think she's irreplaceable," Jay said. "She is a huge part to our success. She makes our team go. She sometimes is too unselfish, I think. There are times when we need her to be more of a scorer, but she's always going to make the best decision and what's best for the team [in terms of] finding the open person, but sometimes we need her to be a scorer. It's tough on her because we give her the responsibility of everything ­­­ she handles the ball, she handles the offense, she's like our coach on the floor."
Marquis' achievement was the highlight of the evening for an Oakton team that struggled early in the contest.
The Cougars went scoreless for the first 4 minutes of the game and trailed 20-13 at halftime. Less than 30 seconds into the third quarter, however, Marquis scored and was fouled. She converted the three-point play, sparking a 7-1 run to open the second half. The Cougars outscored the Wildcats 17-7 in the third quarter, giving Oakton a 30-27 advantage it would hold for the remainder of the game.
Marquis is "an amazing leader, always smiling [and] positive," junior forward Maddie Royle said. "She just makes the team happier."
Prior to Monday's contest, Oakton had gone nearly two weeks without playing in a game due to a snowstorm that led to Fairfax County Public Schools cancelling seven days of classes and athletic events.
"We were definitely all a little rusty and out of shape, but we also just didn't come ready to play," Marquis said. "I thought we started the second half off a lot better than we started the game. I just don't think we were all mentally prepared and it had been awhile since we played, but by the second half though I think we started to play Oakton baseball again."
Royle led the Cougars with 16 points, shot 10-for-10 from the free-throw line and grabbed seven rebounds. Junior forward Delaney Connolly finished with a double-double, totaling 13 points and 12 rebounds. Senior guard Makenzie Brooks added eight points.
Oakton shot 19-for-21 from the foul line, including 17-for-19 in the second half.
Centreville finished 10-for-22 from the free-throw line.
Oakton will host Herndon at 7:15 p.m. on Thursday, Feb. 4.