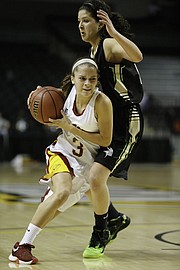 The Langley girls' basketball team played Oakton tough during the region semifinals on Feb. 26, but falling behind early threw a wrench in the Saxons' plans of knocking off the undefeated Cougars.
Eleven days later, Langley got a second shot at Oakton and this time the Saxons didn't wait to get going.
Langley jumped out to an 11-2 lead and never trailed during a 47-38 victory over Oakton in the 6A state semifinals on March 8 at VCU.
After limiting the Cougars to 44 points during their region tournament matchup --- a three-point Oakton victory --- the Saxons were even stingier this time, holding Oakton to a season-low 38. The Cougars, who entered the game averaging 61 points per contest, had 18 through three quarters.
"I think we started the game the best way we possibly could have started ­­­ extremely aggressive, looking to score, getting them on their heels early," Langley head coach Amanda Baker said, "and then we just kept it going the entire game."
OAKTON'S SEASON ended with a loss in the state semifinals for the second straight year.
"Our kids played hard," Oakton head coach Fred Priester said. "I thought we played better in the second half. Couldn't get any shots to drop, couldn't hit a free throw, kind of just one of those days."
Led by junior forwards Maddie Royle (6 feet 1) and Delaney Connolly (6 feet), and senior guard Alex Marquis, Oakton spent much of the season dominating opponents. In the state semifinals, Langley was able to limit the trio to 24 points.
Connolly totaled 12 points and 12 rebounds and Royle finished with four points on 1-for-7 shooting.
"We put a lot of prep into making sure we could defend them properly, especially [since] they have a really good high-low game, and we went through a lot of drills making sure we could get that right," Langley senior Stephanie Sipple said about defending Oakton's standout forwards. "It just took a lot of hard work in getting around them because they're very skilled players and they really know how to get a body up against you. It was amazing what we could do as along as we were talking."
Marquis scored eight points on 3-for-12 shooting.
"I thought [Langley] played an excellent game," Priester said. "They were able to stick to their game plan very, very well and cause us some difficulties, so they definitely deserved to win the game. We just got out-played today. We felt like we were in pretty good shape coming in. It's tough to go undefeated all year. It's just a lot of pressure."
Junior guard Kailyn Fee scored 10 points for Oakton on 3-for-10 shooting.
Oakton shot 14-for-47 from the floor, including 3-for-12 from 3-point range and made just 7 of 16 free-throw attempts.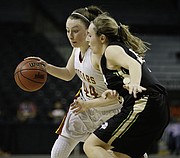 Langley didn't shoot the ball well, either, making just 12 of 44 field goal attempts, but the Saxons made up for it with timely buckets and solid foul shooting. Langley shot 20-for-28 from the free-throw line, led by sophomore guard Jordyn Callaghan, who made 12 of 13 attempts.
Langley senior Lizzy Shamloo knocked down a 3-pointer with 3:02 remaining in the third quarter, giving the Saxons a 26-16 advantage.
Langley led by at least nine for the remainder of the contest.
Junior guard Ari Aulisi's 3-pointer with 5:18 remaining in the fourth quarter gave Langley a 34-18 lead; its largest of the game.
"They control the tempo in such a way [that] when we fell behind it was very, very difficult to come [back]," Priester said. "When we played them last time, we never fell behind."
Callaghan led Langley with 14 points. Paige Galiani, Co-Conference 6 Player of the Year, scored eight points on 1-for-11 shooting. Shamloo finished with eight points and seven rebounds, Sipple totaled six points and 10 rebounds, and Aulisi had six points and seven rebounds.
"We knew that they've never been in that situation --- they've never been down," Callaghan said about the Cougars, who entered Tuesday's contest with a 29-0 record. "On the other hand, we've been down; we've been in close games, so we know how to grind it out. We knew ... if we just keep scoring points and not letting them score points then they'd just slowly get down on themselves and then we'll rise up."
Marquis, asked to give advice after playing in her final high school game, said the Cougars are used to things going their way.
"I just think that we always have to play as a team and we can't get down on ourselves," Marquis said. "I think that the shots in the beginning that we're used to falling and getting us ahead, kind of getting our momentum going, just weren't falling today, so we realized we kind of had to resort to other things and we're not used to that. We're used to our shots falling and everything kind of working in our favor. We just can't get down on ourselves and we have to find a new way to do it."
OAKTON ENTERED the state tournament undefeated for the third time in the last eight seasons. In 2009, the Cougars won 30 straight before losing to Princess Anne in the AAA championship game, 71-61. Oakton won the AAA state title in 2012, finishing 31-0 after beating Princess Anne 58-39.
This year, after 29 straight victories, including Conference 5 and 6A North region championships, the Cougars fell in the 6A state semifinals.
"We feel bad," Priester said. "Everybody we beat before this felt bad. Two sides to the same coin."
Oakton will lose three seniors to graduation: Marquis and guards Christin Butters and Makenzie Brooks. Marquis was a four-year starter at point guard for the Cougars and scored more than 1,000 points in her career.
While Marquis will be difficult to replace, the Cougars would likely have another strong team next year with Royle, Connolly and Fee returning.
"It's just been a great season," Marquis said. "All these girls are my family. It's tough to end the season this way but we played hard all season long so I can't ask for anything more."