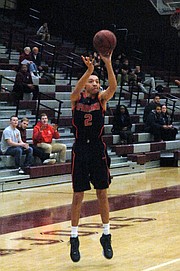 When facing West Springfield for the first time this season, Mount Vernon head coach Lou Golden approached the Spartans' size advantage by having the Majors play man defense and double-team in the post.
The result: 14 points for 6-foot-4 Spartan forward Brock Vaughn, 12 points for 6-foot-9 forward Lewis Djonkam, according to stats from allmetsports.com, and a 24-point West Springfield victory on Jan. 8.
On Tuesday, Mount Vernon hosted West Springfield to open the second half of the Conference 7 schedule. This time, Golden had the Majors playing a zone defense in hopes of limiting paint touches for the Spartan post players.
The strategy proved effective in slowing down Djonkam and Vaughn at the offensive end as the duo combined for just eight points ­­­ all by Djonkam. However, the cost of packing defenders in the paint was providing West Springfield with open looks from the perimeter and, oh, how the Spartans capitalized.
WEST SPRINGFIELD knocked down eight 3-pointers, including seven in the first half, and the Spartans cruised to a 62-39 victory on Feb. 2 at Mount Vernon High School.
"We know that they're very big, so last time we manned up and tried to make it more difficult to get it into the post and we doubled in the post," Golden said. "I think the last time we played them, Lewis probably had [12], Brock had [14], and they totally killed us from the inside. So our approach this game was to zone up, make it harder to get it into the post, and I thought from that aspect, we did a very good job [with] that. Brock and Lewis got frustrated. We did a good job and made it very difficult for them to get it.
"Unfortunately, they were hitting every single ... [3-point shot]."
Mount Vernon led 7-4 midway through the first quarter, but West Springfield guard Andrew Storr knocked down a pair of 3-pointers, giving the Spartans a lead they would hold for the final 28 minutes of the contest.
"We've got a lot of shooters on our team," said Storr, who finished with six points. "Everyone's ready to just fire one up."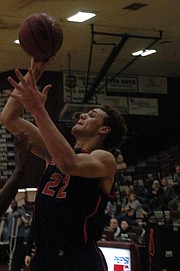 Junior guard Kyle Pack made West Springfield's seventh 3-pointer in the closing seconds of the first half, giving the Spartans a 31-16 halftime advantage.
"It's definitely like a pick your poison," Golden said. "They're definitely a very hard matchup."
It was the first game back for both teams after a snowstorm caused Fairfax County Public Schools to cancel classes and athletic events for more than a week. Neither team had played since Jan. 19.
"Coming off a break, it was a great strategy," West Springfield head coach Durmia Marshall said about Mount Vernon playing zone. "Kids haven't been able to get in a gym for seven days; they haven't been shooting the ball. It was a great idea, I just think the kids focused and made the shots."
The victory improved West Springfield's record to 14-1, including 8-0 against Conference 7 opponents. Every other team in the conference has at least three losses.
"We take pride in it," Djonkam said about having an undefeated conference record. "We love it."
Djonkam, a senior, is in his first full season with West Springfield. He transferred from Bishop O'Connell as a junior and played in the final six games of the 2014-15 campaign.
On Tuesday, Djonkam finished with eight points and seven rebounds. Starters spent the fourth quarter on the bench with the Spartans comfortably ahead.
"Lewis is definitely developing," said Marshall, who is in his second season as West Springfield head coach after 10 years as an assistant at Woodson. "He's coming ... [from] a team where he wasn't the main guy to coming to a team where he's that main guy, [with] people looking for him, and he's trying to embrace that role and he's developing."
ON THIS NIGHT, Djonkam's presence in the paint helped open things up along the perimeter for West Springfield guards. Junior Riley Welch made one 3-pointer and finished with eight points. Sophomore Gabriel Kier and Pack each made two 3s and scored eight points.
Senior Spencer Askew also knocked down a 3-pointer. Senior Andrew Johnson finished with seven points.
"It opens the middle a lot more," Djonkam said about the Spartans making perimeter shots. "When they hit shots, we win."
West Springfield will host Annandale at 7:15 p.m. tonight.