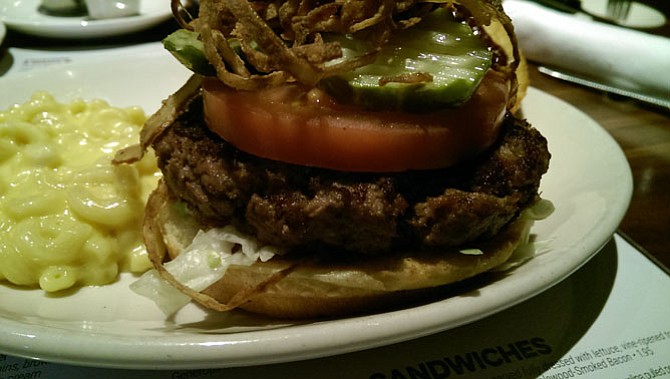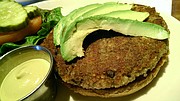 Wood Ranch BBQ & Grill partner, managing chef and "Sultan of Smoke" Alejandro Benes is working to blend barbecue traditions, as well as cuts of meat. The West Coast-based chain has already been introducing the Tri Tip, a California and Texas traditional preparation of sirloin slow-roasted overnight then grilled to order, to the East Coast through its Springfield Town Center location.
In another meeting of the meats, Benes has added a brisket burger to the restaurant's beef sandwich menu: the "2.0." By combining four ounces of ground, smoked brisket-cut meat with another four ounces of Certified Angus Beef ground chuck, he achieves a tender consistency that's slightly confusing to the mind. Is it brisket? Burger? It's balanced.
"When they taste it, they get it," Benes said of customers who've given them their feedback on the burger.
Another blended burger on Wood Ranch's menu comes in veggie form. The exact formula that includes white mushrooms, leeks, corn, lentils and rice flour as a bind took Benes ten weeks to develop.
"Some vegetarians may miss meat, and some veggie burgers are trying to replace meat," Benes said. His goal with the veg version was to achieve a slightly crispy crust, reminiscent of a good sear, with a sturdy yet chewy interior that highlighted the natural flavors of the ingredients, rather than give the illusion of beef.
Wood Ranch BBQ & Grill is located at Springfield Town Center, 6797 Springfield Mall in Springfield. For more information, visit www.woodranch.com/restaurants/springfield.