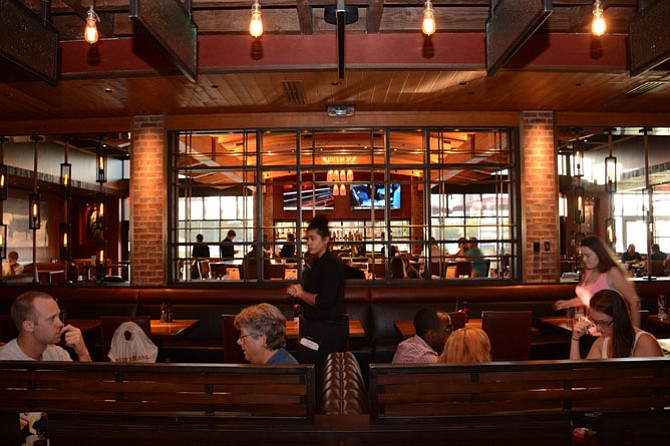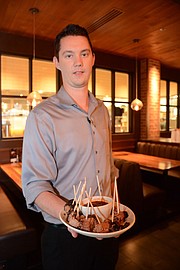 Springfield resident Brian Watson has lived in the area for about as long as some of the meat smoking in the back of the restaurant he manages. Watson moved to Springfield from California to open the 16th Wood Ranch BBQ & Grill at Springfield Town Center in June.
It's the first location outside the The Golden State and a big change for Watson, who's been with the company 11 years. "It's been good, fun," Watson said about his first impressions of northern Virginia. "The weather is definitely different."
Watson and Wood Ranch partner, managing chef and "Sultan of Smoke" Alejandro Benes, recently hosted members of the media and local food community at the restaurant, first offering trays of burnt end brisket "bon bons." Hours of roasting over hickory had made the meat extremely tender and imparted a smoky depth that intensified with the welcome heat of chipotle cherry and habanero peach barbecue side sauces (made in-house).
Benes said the partners had been looking at coming to the northern Virginia area for about four years, as it and Washington, D.C. have developed as foodie destinations, and finally found the right opportunity at Springfield Town Center. He described Wood Ranch's concept as "premium, casual American restaurant featuring BBQ."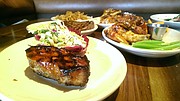 The full menu draws from a variety of BBQ traditions, including St. Louis ribs and Carolina pulled pork, as well as fire-roasted chicken, freshwater trout and Atlantic salmon. But its robust BBQ section is lead by a specialty from both Texas and Wood Ranch's native California: Tri Tip.
For the uninitiated, Tri Tip meat starts as a USDA choice sirloin and is then slow-roasted overnight before being cut and grilled to order. The result is a toasted marshmallow of a piece of meat: smoky and crispy on the outside, rich and almost fluffy with caramelized fat on the inside.
While as Benes said, BBQ takes a lead role, the rest of the menu's recipes also come off as well-considered. The chicken wings are crispy and not drowning in sauce, the shredded onions breaded with a paper-thin coating, and the Tuscan Kale Salad, one of more than half a dozen in that category, dresses up the fad green with watermelon radishes, golden radishes, toasted pumpkin seeds and balsamic vinaigrette.
For more information, visit www.woodranch.com.