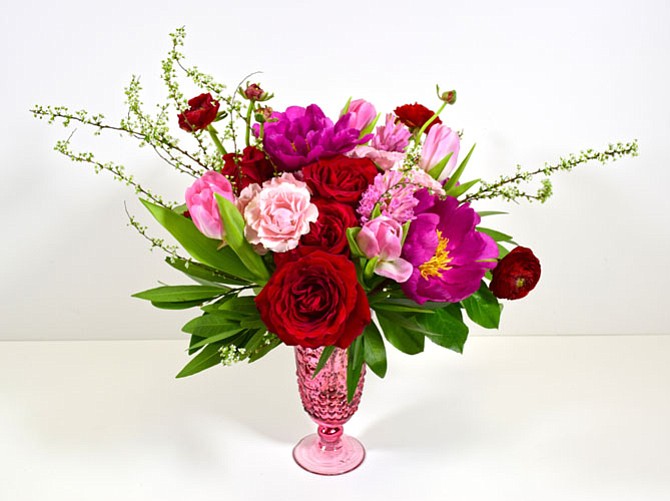 Fresh flowers and candles are an easy way to add elegance and romance to a Valentine's Day table. From dramatic to understated, local tastemakers offer suggestions for setting the mood for a memorable dinner.
"Candles are key to set a romantic atmosphere," said Marika Meyer of Marika Meyer Interiors in Bethesda, Md. "Soft lighting is flattering to all of us and creates a sense of intimacy for conversations."
The ambience is enhanced, says Meyer, when the candlelight glints off of metallic accessories like candlestick holders. "You can use silver, mercury, glass or even gold or brass to help move the light," she said.
In fact, gold accents are a current trend, says Angela Phelps of Le Village Marche in Arlington. "They pair well with pinks, reds, and fuchsias," she said. "So, as you're planning a romantic dinner at home, think about incorporating china, vases, candle votives, trays, and glassware with a gold trim for a stunning table."

"As you're planning a romantic dinner at home, think about incorporating china, vases, candle votives, trays and glassware with a gold trim for a stunning table."

— Angela Phelps of Le Village Marche
Metallics combined with a few pops of a soft color help create an elegant setting. "White and silver tables can be very romantic — for example, a white tablecloth, mirrored or silver placemats, silver flatware and crystal stemware," said Fay Johnson, an interior designer with J.T. Interiors in Potomac, Md. "The centerpiece [could be] a silver ice bucket with white and blush colored roses and a array of assorted size candles and votives."
For a more traditional table, Johnson stated that "a black, white and red table can be very dramatically romantic. A black and white tablecloth [such as] a houndstooth or herringbone … pattern with red, glass stemware, white dinner plate, a ruby-red glass salad plate and silver flatware."
Johnson suggests completing the look with a crystal or silver vase filled with red roses and accented with few red glass votive candles.
Johnson believes that not all centerpieces need to be flowers. She suggests filling three compote dishes, graduating in size, with chocolates and red and pink rose petals for table design with a touch of whimsy.

A vase can add a powerful style impact. "A vase is like a frame for a picture," said Linda Wilson-Vertin, floral designer with Merrifield Garden Center in Fair Oaks. "A clear vase is like not having a frame on the picture."
Instead, choose a vase that has visual interest or one that is meaningful on a personal level. "I like using things that are special to the individual," said Wilson-Vertin. "I ask clients to bring in a container that they like so that I can create an arrangement that works with it."
While red is often the go-to floral color for Valentine's Day, Wilson-Vertin says that shades of pink, peach and purple can offer elegance and romance. "Go with what works for you and what works in your home," she said. "For example, red doesn't work in my home, so I use watermelon and apricot."
Consistency adds an unexpected touch of enchantment. A monochromatic palette conveys more romance than contrasting colors," said Wilson-Vertin. She recommends using "red roses with deep burgundy mini carnations to vary the size of the flower head and texture. Mini carnations have ruffled texture."
For the ultimate in texture and color variety, "think English garden, like roses, hydrangeas, lisianthus and snapdragons," said Wilson-Vertin. "Add berries and eucalyptus" to complete this elegant floral arrangement."
Linen napkins offer a finishing touch to an elegant table setting, says Kelley Proxmire of Kelley Interior Design in Bethesda, Md.
"Use pretty salt and pepper shakers, festive napkin rings, and if you have fancy water or wine glasses, now is the time to use them," she said. "And don't forget the champagne bucket nearby for cooling white wine or champagne."