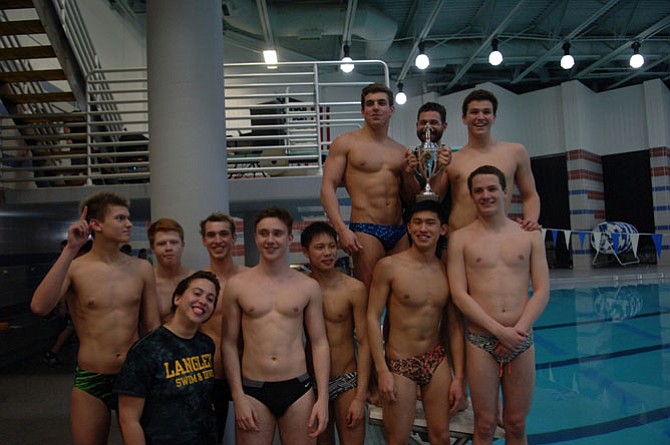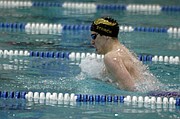 The Langley boys' swim and dive team entered the season hoping for a top-three finish at regionals and states.
After a championship performance last week, the Saxons' goals have shifted.
The Langley boys won the 6A North region championship on Saturday, Feb. 6 at Oak Marr Recreation Center. The Saxons finished with a score of 229.5, holding off runner-up Patriot (215).
Langley head coach Ryan Jackson said the Saxons put themselves in position to win with a strong performance on Friday during prelims.
"It sunk in last night when I went home and scored out how we did in prelims," Jackson said. "We did well last night. We put ourselves in position, event after event in prelims, to be in the place to score points. We had all three relays in the top eight. We had swimmers come back in every event. We had points coming from diving from Wednesday. We really had a complete team show up and we swam great."
Langley's victory came one week after the Saxons took home the Conference 6 title on Jan. 30 at Washington-Lee High School.
Sophomore Casey Storch had a strong regional meet, winning the 200 IM with an All-American-qualifying time of 1:49.29.
"I feel that was a strong race," he said. "Going into it, I was a little scared of all the other guys coming back. I ended up going out really fast in the first half but I felt strong the whole time."
Storch also placed third in the 100 breaststroke with an All-American time of 56.1, which also bested the previous meet record of 56.5, and helped the 200 medley and 400 free relays finish third.
"He's just so talented," Jackson said about Storch. "It looks effortless, but he just gives 100 percent. He anchored the [400] free relay right after the breaststroke, he split a 45 low ­­­ just incredible. That's right up there with the big boys in the 100 free ­­­ and right after swimming the breaststroke. He's definitely talented and he has a lot of poise, as well."
The Langley 200 medley relay (Ryan Ha, Storch, Devin Truong, Carter Bennett) finished with a time of 1:33.92 (All-American) and the 400 free relay (Chase Bradshaw, Truong, Justin Rose, Storch) posted a time of 3:09.14 (All-American consideration). The 200 free relay (Bennett, Adam Fischer, William Wingo, Justin Rose) also took third, finishing with a time of 1:26.46.
Rose, a senior, placed fifth in the 100 butterfly (50.99) and 100 backstroke (51.12, All-American consideration).
Bennett, a senior, tied for fifth in the 50 free with a time of 20.99 (All-American consideration) and finished 10th in the 100 free (47.26).
After Saturday's region championship, Jackson, who announced to the team earlier this season that he will take a break from coaching after 12 years with Langley, said the Saxons' outlook for states has changed.
"I think our goals have shifted a little bit in terms of a top-three finish," he said. "Maybe we're going to try to take a sweep."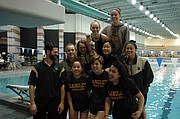 The defending state champion Langley girls' team finished runner-up at regionals with a score of 194. Robinson won the title with a score of 222.
Langley junior Isabella Rongione placed second in the 500 free with an All-American time of 4:46, finishing four-tenths of a second behind Oakton senior Megan Byrnes. Rongione placed fourth in the 200 free (1:49.87, All-American consideration) and helped the 200 free and 400 free relays place third.
The 200 free relay (Micaela Grassi, Celeste Pace, Rongione, Michelle Owens) turned in a time of 1:37.79, and the 400 free relay (Grassi, Joanne Fu, Owens, Rongione) recorded an All-American-consideration time of 3:30.28.
The 200 medley relay (Grace Gent, Pace, Fu, Kendall Heebink) finished eighth (1:51.01).
Fu, a junior, placed second in the 100 butterfly (56.03) and eighth in the 200 IM (2:08.4).
Owens, a junior, placed fourth in the 500 free (4:53.01, All-American consideration) and fifth in the 200 free (1:50.46, All-American consideration).
The 6A state diving championship is scheduled for Feb. 19 at Oak Marr. The 6A state swimming championship meet will be held Feb. 20 at George Mason University.