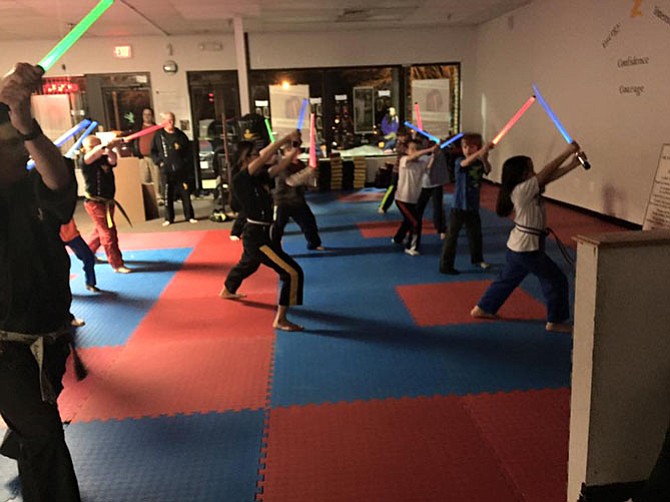 Beams of neon light flash around a dark room. Young Star Wars fans from a galaxy not so far away wield light sabers and move with carefully choreographed steps. These Jedis-in-training are undergoing a fantasy combat training that melds martial arts with light saber fighting, Star Wars-style.

"Star Wars fans are the ultimate martial arts enthusiasts. Star Wars is 100 percent developed on the concepts and philosophies of martial arts … the use of the sword, the belief structure," said Michael Dietrich of Dietrich's Karate Fitness and Life Skills in Burke. "Now we have an opportunity to invite students because of their interest in the movie. It's an easy way to bring them into our schools and show them what martial arts are all about."
Building on the hype surrounding the recent release of "Star Wars: Episode VII - The Force Awakens," Dietrich began offering classes at his newly created "Laser Saber Academy." Students sign up for a six-week class, where they learn how to use a light saber, tap into "The Force," and improve their focus, discipline and determination.
"Any time a new movie or TV show comes out that features a robot, there is a spike in interest in robotics."

— Dan Gallagher of RobotWorks in Burke
"Any time a new movie or TV show comes out that features a robot, there is a spike in interest in robotics," said Dan Gallagher of RobotWorks in Burke. "Every kid I've talked to since the Star Wars movie came out wants to know how BB-8 works. Before that, they talked about other robots like Wall-E, R2D2, and Baymax."
At RobotWorks, Gallagher's students learn basic robot design, construction and programming. "In general, though, kids are always interested in robots and how they work. Robots are fun," said Gallagher. "Building robots is even more fun, so we see a steady interest that might jump a little when a new movie robot makes an appearance because it acts as a reminder of that interest — bringing it back to the front burner."
The concepts of the Star Wars universe are seeping into the extracurricular class choices at local schools, with students opting to take offerings like robotics and 3-D modeling. "I think that there is some interest in our STEAM (Science, Technology, Engineering, the Arts and Mathematics) activities that grows from sci-fi movies like Star Wars," said Richard Rho, director of Technology Education and Innovation at St. Stephen's & St. Agnes School. "I have had students 3D model and print the Tie Fighters and X Wing from the movies as well as talking about how we could create our own BB-8 droid in the robotics lab as the off season project."
Educators say that such activities are fun and engaging while also educational. "It's great students are getting inspired by the movie to create ideas and designs and spreading that interest with the rest of our community," said Rho.