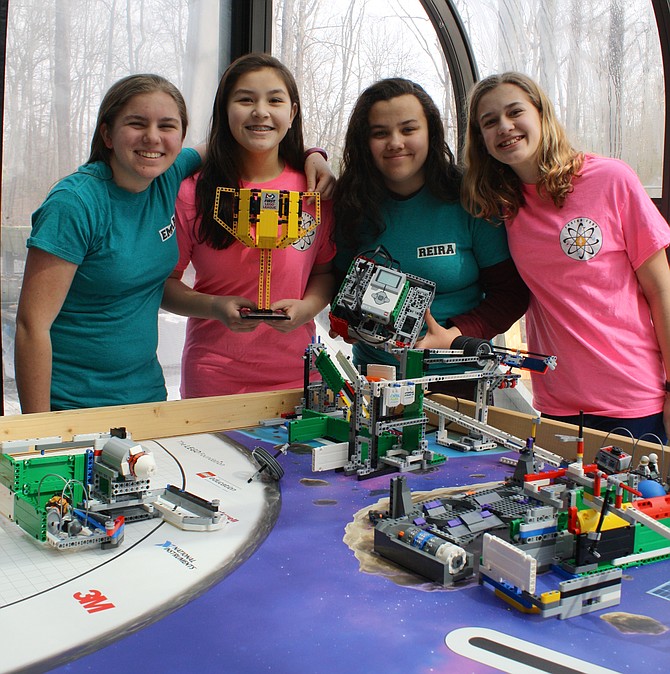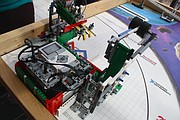 Working with Lego robots is an engineering feat that the Fusion Four First Lego League Robotics team from Burke has mastered, recently winning a first place award at the First Lego League "Into Orbit" competition. In April, the team will go to Detroit for an international completion in Lego robotics.
The team consists of Lake Braddock Secondary School seventh graders Reira Erickson, Emma Hrabak, Minah Sisco and Devon Rudolph, a seventh grader from Robinson Secondary School. They teamed up, put in long hours, made team T-shirts, talked to NASA scientists, and dove into the competition. As a team, they developed a robot outfitted with the "ET System," to help astronauts survive if they got separated from the space station, or "mother ship," as they say in the movies. "We started talking about ET the movie," said Minah Sisco, 12. "What if the astronaut got too far from the ISS?" she asked.
THE GIRLS take advanced academic seventh grade classes and engage in Lego robotics after school and on the weekends. Last year they were in another competition but did not advance far. This year they went all the way to the top, learning as they went. They Skyped with Dr. Justin Atchison, a scientist at NASA who was also one of the parents' friends, and got back to him with an in-depth discussion of their mission.
"We've had some very long Skype interviews," said Devon, who is a Lego enthusiast but also has interest in journalism. After the award, she wrote a story about their competition for the Robinson Medallion newspaper at school.
"We all really love space," said Reira.
They came up with a logo that resembles an atomic fusion but the ions floating around the nucleus represented each person on the team with an icon from their interests – the violin, martial arts, running and swimming. When the robot takes off, it creates a chain reaction, similar to the old board game called "Mousetrap." A mention of the game got a big reaction from the team. "Everybody loves that game," said Emma's father Michael Hrabak.
Working with Legos goes way back to the younger days for all of the team members, and the parents are supportive of the problem solving and teamwork this robotics experience brings.
"They learn to take advantage of the diversity and different perspectives within the team and then work together to figure out the best choices," said Jo Hee Sisco, the mother of Minah.
Working with Legos has another side too. "Lego allow a student's imagination to soar and provides children with an opportunity to engage a world of limitless possibilities," said Michael Hrabak.
THE INTERNATIONAL COMPETITION is April 23-26 in Detroit, and the girls will miss a few days of school; the parents have brought this up with the teachers and there were no problems. After all, working with Lego robotics, computers and teams from all over the world does teach a few things.
There are no boys in the Fusion Four, but that's okay; they've had mixed teams before and there was a certain amount of goofing off that had to be tolerated. "We can work together a little bit better," said Minah.