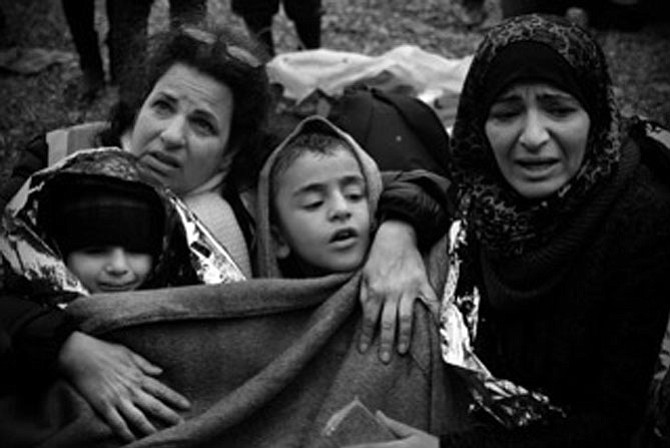 As Kathy Hertz saw women and children being pushed to the front of the overcrowded dinghy approaching the shore, she thought, "This is what I'm seeing on TV. Oh my God, this is real."
When the boat, overflowing with refugees, reached land on the Greek island of Lesvos, more than 5,000 miles from her home in Clifton, Hertz and her cousin Joanne Feinberg were each handed a baby to be dried and warmed first. The parents would find them later.
"I don't even know what I thought," Hertz said. "I was just holding him as tight as I could, sort of in shock. There were 50 to 60 people on a dinghy made for 16. I thought of the enormity of this, that they made it."
Hertz and Feinberg hadn't even reached their hotel after landing in Lesvos the day after Christmas 2015. They'd rented a car and were driving that direction along the Greek coast when Feinberg shouted "Turn! There's a boat!"
The pair got off the main road and managed to drive to where it looked like the boat might make land. There they met an assembly of volunteers who were preparing to receive the refugees with blankets and warm clothing. Getting the people dry and warm as fast as possible was first priority.
"I realized I didn't know what to expect before we got there," said Feinberg. "That organized chaos threw me right into the emotional situations we were going to encounter."
LESVOS has been a major funnel for refugees fleeing Syria, Iran, Iraq and Afghanistan. There they register for a ferry to Athens and continue on to safe haven elsewhere. In the fall and early winter of 2015, the United Nations and other non-governmental organizations had yet to establish a significant presence on the island. Volunteers were arriving on their own to help refugees land and safely wait the several days before they could register for further transportation.
Looking for a more meaningful way to spend a vacation together, Feinberg, who lives in Ashland, Ore., had been reading about the situation there and suggested a service trip to Hertz. They both decided it was a no-brainer.
Feinberg found a Facebook page with information about going and helping with the effort in Lesvos, but it was contingent on each traveler to independently link up with the established volunteer group. Using the WhatsApp Internet-based chat app, lookouts for the volunteers from around the world could quickly communicate the location of boats arriving and initiate a welcome party in realtime.
After getting that first boatload of refugees on to United Nations High Commissioner for Refugees buses, the women were able to get settled into their quarters.
The next step for the refugees was a makeshift camp set up by volunteers in Moria. At the camp "Better Days for Moria," families could locate their missing members, seek medical attention, clothing, food, shelter, art and prayer in the few days before they were able to register to be taken to Athens.
Hertz and Feinberg spent much of their week-plus trip working among the tents, spending time one-on-one and either communicating through a refugee translator or making due through broken English.
"I wanted to make them feel human for a few minutes," Hertz said. "They'd left everything, sold everything to buy passage. So many pregnant women, people risking their lives and traveling without food or water, walking for days before even pushing off. It blew my mind this was the good option."
LOOKING BACK on her experience, Hertz said she wants to "combat fear that there are [Islamic State] terrorists trying to sneak through."
"That's just not what it is. There's more danger on I-66 than someone trying to get through. No one even said I'm going to the U.S.A.; most were trying to get to Germany."
Hertz is a life coach and mother, while Feinberg, also a mother, works in independent films. Documenting the trip wasn't her goal in coming, however.
"There was so much to do there," she said, "any time I had a camera in my hands, it was beside the point. My hands needed to be busy helping the refugees."
In addition to their manual labor, the two women had brought more than 30 coats, as well as hats, gloves and scarves they had collected prior to the trip. But with anywhere from 1,500 to 6,000 refugees arriving daily, they also knew money was the most valuable aid, so they'd also raised $4,000 to help purchase whatever was most pressing. One day it might be shoes for men and boys, the next it might be a whole outboard motor.
While working in the tents, Hertz and Feinberg met members of Proem-Aid, an organization of Spanish lifeguards that had mobilized to help rescue broken down dinghies and any refugees who had gone overboard.
"The engine usually stops and they don't know how to repair it," said Gabriel Hureau, a lifeguard from Madrid who began working with Proem-Aid in December 2015. "They haven't been in the water before. It stops. There's lot of water coming in, they crowd, plus the water, it makes the boat sinking down. If it doesn't sink, when they come to shore, there's too many people, it can't be controlled."
"They go to the rocks, the cliffs, they smash into the rocks before arriving," Hureau continued. "People drowning 15 meters before arriving. They didn't know how to swim."
Hureau said anywhere from five to 50 volunteers from Seville and Madrid, Spain, have helped rescue refugees off the coast of Lesvos since he started.
"I was very prepared about where I was going, I read a lot of information before," he said. "But I couldn't believe what I was seeing. Being there was different. I was very shocked no one was doing nothing. We're coming from Spain to help and couldn't believe that there were not big organizations doing the work that we were doing."
HERTZ AND FEINBERG were amazed with the rescue work of Proem-Aid, and heartbroken when that group's own boat's engine broke down and scuttled their operation.
The two women reached out to their friends and communities back in the United States and managed to raise enough money remotely to help buy and brand new engine so the lifeguards could get back on the water.
"This money raised by them saved a lot of people actually," Hureau said. "I'm convinced we can motivate more people to do the same."
Back in America, Hertz is trying to raise awareness of the situation in Lesvos, as well as the work Proem-Aid is doing, despite setbacks from local law enforcement. Several lifeguards have actually been arrested by the Greek coast guard for human trafficking, choosing to view the life-saving missions as smuggling. Legal fees and a warranty against future judgements have cost the lifeguards almost the money they have to run on, Hureau said.
Both of the women are planning to give public talks about their experience and encouraging others to contact their federal representatives and find a way to get involved.
"It was hard coming back, you want to do more," said Hertz. "I feel isolated and alienated from people here, but I also want to help people understand they can make a difference."
Hertz has created a Facebook page where people can post children's art from the refugee camps, and is working on another comprehensive resource guide. The two women also kept a daily Facebook journal during the trip, which developed a larger following than they expected, outside their immediate friends groups.
"It made me think how for real people like us," Feinberg said, "it's so easy to ignore these stories, like on the front page of New York Times, until you have someone you know, your neighbor, translate what they're seeing on the ground. I was amazed at the impact it had in terms of creating awareness and understanding that this is not just an issue, these are real people."
"Everyone can do things that are amazing, the difference is a choice," said Hertz, though acknowledging a trip to Greece may not be the most feasible charity work for everyone. The point is finding what Feinberg called "this place in ourselves that we want to continue giving to others."
"You have to have to do the thing that speaks to you," Hertz said.
More information and photos from Hertz's trip and her continued work is available on her Facebook profile at Kathy Scheman Hertz.
More like this story