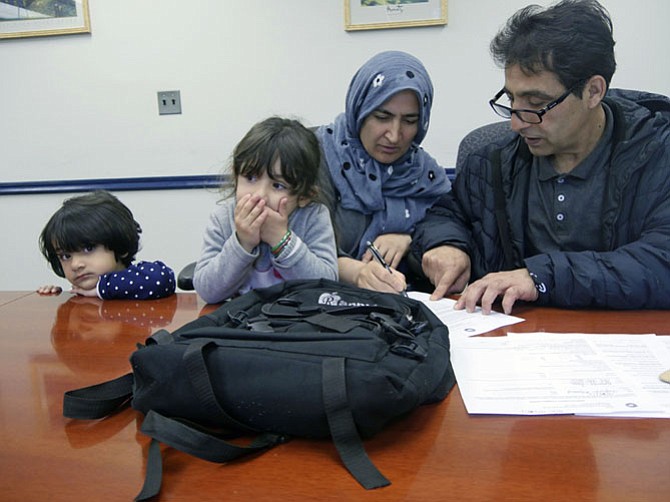 "This is a time of extremes — very welcoming or very unwelcoming for refugees," said Melanie Gray, director of Outreach and Mission at Historic Christ Church. "Our church started meeting about a year ago. We knew we wanted to do something about refugees but we weren't sure where we were going. As we continued our meetings I began to see more refugees and asylees coming into our church's Lazarus Financial Ministry seeking financial assistance."
Gray said that their effort has grown in past months to include a number of other churches in the Alexandria community, and at the last monthly meeting there were 20 or more people from Grace Episcopal, Immanuel Church-on-the-Hill, Emmanuel Episcopal on Russell, Westminster Presbyterian, Commonwealth Baptist and others. Gray says their group has been working with 10 refugee families who were referred to their Lazarus Ministry by Alexandria's Department of Community and Human Services. The churches provide temporary rental assistance and such things as rides to the doctor, meals, children's toys, furniture and moral support.
Upon a refugee's arrival in the United States, the first phase is assignment to a private voluntary group that provides resettlement services through a cooperative agreement with the State Department. The two-resettlement agencies designated for 21 counties and seven independent cities including Alexandria are Catholic Charities and Lutheran Social Services. A third group, the Ethiopian Community Development Council (ECDC) was just added to specifically handle special Immigrants from Afghanistan and Iraq in the Northern Virginia area.
Sarah Zullo, managing director of ECDC, says these refugees worked for the U.S. military. She has never seen so many people willing to help refugees — "opening their wallet, their homes. The generosity of the American people is overwhelming."
Patricia Maloof, program director for Migration and Refugee Services for Catholic Charities of the Diocese of Arlington, said, "We have served 615 refugees from more than a dozen countries since October 1, 2016. We are authorized by the U.S. Department of State to resettle 600 refugees a year, plus an additional 10 percent if there is a need." She explains they are capped for the year and currently they only receive Central American minors who are joining their parents or family in the greater Fredericksburg area.
Before the refugees arrive, the resettlement agencies have rented a place for them to live and equipped it with basic necessities. They meet the refugee at the airport. Then they provide temporary financial assistance, transportation, health screening and help the refugee with signing up for benefits and getting their children enrolled in school as well as cultural adjustment to American life.
Maloof explains the resettlement and replacement program covers the first 90 days. Employment services including training, interviewing tips, job development and counseling are provided for the first 180 days. In addition, Maloof says a health liaison assists clients with ongoing medical needs for up to three years and a school liaison helps to register children in school and provide support as needed to children who have special needs in the school system, also for up to three years.
The City of Alexandria offers a variety of assistance to refugees. However, there is no number available on total refugees served by these programs which include public benefits, community services such as food, clothing, furniture, prescription and burial assistance as well as rental utility assistance. In addition, the Workforce Development Center offers employment assistance to help refugees transition into the workforce. Daniel Mekibib, a program manager at Alexandria's Workforce Development Center, says refugees are eligible for the same benefits and services that are available to U.S. citizens with the exception of Medicaid which is available to refugees but not to Virginia male residents. Virginia's local departments of social services determine whether Virginia's refugees are eligible for public assistance. Local refugee resettlement agencies determine whether they are eligible for employment services.
If refugees meet the requirements of a program, they are eligible for Temporary Assistance for Needy Families (TANF), Medical Assistance Program, the Supplemental Nutritional Assistance Program (SNAP), Energy Assistance Program, and the General Relief Program. Immigrants who arrive under such categories as work or student visas are not eligible for these benefits. Legislation sets the limitations on length of time each benefit can be received.
Mekibib manages the Virginia Initiative for Employment Not Welfare (VIEW) program that provides employment-related services to eligible City of Alexandria residents who are receiving Temporary Assistance for Needy Families benefits (TANF). He says the purpose is to assist refugees with employment so that they can become self-sufficient as soon as possible. He has about 300 currently enrolled in his TANF Program and he estimates about 75 percent of this total is refugees. Mekibub, a former refugee from Ethiopia himself, said, "at the Center we focus on what will help them transition into the workforce." He explains that the refugees generally are highly skilled with graduate degrees and another group is mostly women who never had the opportunity to go to school or work due to cultural or socio-economic reasons. He says in order to receive the benefits they must meet a work requirement unless they qualify for an exemption.
But Gray says after a couple of months although Medicaid and SNAP are still in place, the resettlement services such as rental and subsistence assistance end, and often the refugees haven't found a job yet and can't pay their rent or buy necessities. So the churches and local groups step in to continue the assistance until the refugees can get on their feet. And Gray says, as she knocks her knuckles on the wooden arm of her chair, "It's incredible to watch how fast they get on their feet. Seven out of 10 families are stabilized now."
The churches work together to assign a Care Team of two-three volunteers to assist the families with everything from babysitting while a mother has surgery to tutoring a child, taking the family out for entertainment, sharing meals, finding dentists, accompanying them to interviews for asylee status, refocusing resumes for American culture. They also get tangible things like a stroller "… and usually we get what we need pretty fast."
Gray says a common denominator for these families is that they are well educated and speak English. "We have an engineer and a translator. They do not want to be asking for help." She says it is partly emotional because they have been successful in their own countries and now they need help.
Every month there are meetings of the Care Teams to discuss what is working well, what resources are needed, and the status of the families. "We talk about how things are going financially and if a care team member says a family needs clothing, "I come up with a way to do it."
Other more informal community efforts exist to assist refugees. Suzanne Arnold, who is in charge of community outreach at St. Rita Catholic Church, said, "There are so many people helping behind the headlines." She says she got involved four years ago when she got a call from a hospital emergency room about a refugee "because they knew I was someone who helped people." Before she knew it, three more families who lived close by to the first family asked for help and as word spread more and more families came. Sometimes they needed household items or children's toys or some emergency rent when they have not quite secured a job. "They will sleep on the floor until I find a bed for them." Arnold estimates she is helping 20-25 families right now.
"But they don't like to ask. They didn't know they would be given anything and they are entrepreneurs who will work at anything — delivering pizza, pushing a wheelchair in an airport. But there is a reverse brain drain. I've met four-five Fulbright scholars and when they come here they end up working at Ross."
Arnold says there are so many people helping behind the scenes: "We help anyone who calls for help and churches interact to find a resource if they don't have it themselves. They call and I run out with the welcome wagon. What I do is low key — send out an email to other churches, neighbors and friends and people respond."
Gray says money for the multi-church efforts has come flowing in and to date they have received $42,400 in donations from the congregations, one anonymous $25,000 donation from a woman who said, "I trust you," and $17,400 in small donations. Most of this money is used to pay two-three months rent for the families "although we bought a high school student supplies and helped get a car. Now he is an Uber driver and doing fine. This money buys them 60 days of peace. They can go out and find a job without worrying." Gray says currently they are serving three asylees and seven refugee families with the asylees from Eritrea, Pakistan and Egypt. "This is part of the beauty of the refugee ministry: Christians helping people in need regardless of where they are from or what they believe."
The next monthly meeting Care Team group will be to plan a group potluck. The first potluck had 63 people including the refugee families, the care teams and the Muslim-American societies. "There was food from all over — it was cool."
This is the first in a series of stories focusing on refugees in the community.