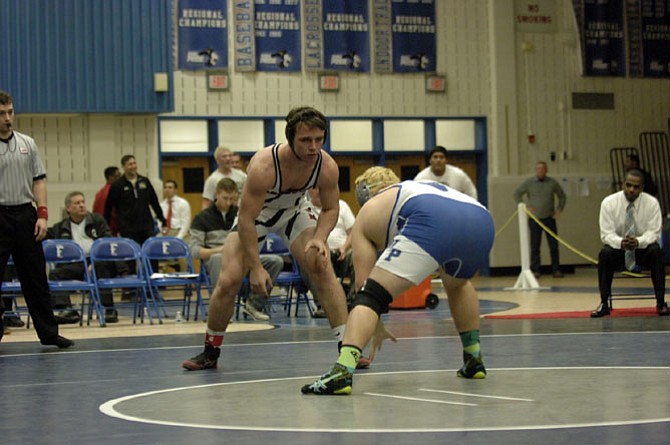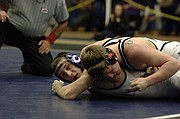 Madison wrestlers Ryan Partridge, Tyler Megonigal and Drew Smith each won a championship in his respective weight class on Saturday, Feb. 13 during the 6A North region meet at Fairfax High School.
Partridge finished first in the 220-pound bracket, beating West Potomac's John Holzworth via 5-4 decision. Partridge trailed 3-0 entering the third period, but battled back to win with a late takedown.
After Partridge tied the score at 3 with a takedown, Madison coach Shawn Hutchinson signaled for the senior to let Holzworth get back on his feet in order to go for another takedown and the win, Partridge said.
Trailing 4-3 after allowing an escape, Partridge got the takedown he was looking for.
"My coaches knew that wrestling on my feet is one of my strengths," Partridge wrote in an email, "and that I have the conditioning to gas my opponents late in matches."
Partridge needed just 21 seconds to pin Centreville's Shane Ross in the opening round. He then won a 15-8 decision against South County's James Momon and a 10-7 decision against Robinson's Ieuan Israel to reach the final.
"It felt really special to win the regional title in front of my family, friends, coaches and teammates who have supported me every step of the way," Partridge wrote. "Everyone in the Northern Region has known each other since we were in elementary school and, although we compete hard against each other on the mat, it's a real brotherhood off of it and it feels great to have had some success these last weekends in that fraternity.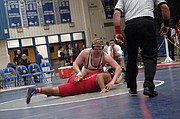 "... I felt confident that I could do some damage at this year's regional tournament. I earned a good seed after winning my conference and felt like I was peaking at the right time. I enter every tournament simply wanting to wrestle well. I knew I could win the Northern Region, but anything can happen on a wrestling mat and often does. I have the same mindset looking on to states. If I wrestle hard and leave it all on the mat, I will be happy with the results."
Megonigal, a senior, captured the 152-pound title, winning a 10-4 decision against Chantilly's Samuel Tenaglia in the final.
Smith, a senior, won the 285-pound title with a 1-0 decision over Annandale's Sergio Martinez.
Madison senior Bobby Kurtzke placed third in the 126-pound bracket, and senior Taylor Christensen finished fourth at 138.
The 6A state wrestling championships will be held Feb. 19-20 at Oscar Smith High School in Chesapeake.
"It was a historic year for Warhawk Wrestling," Partridge wrote. "We battled through a lot of injuries and adversity and everyone on the team battled hard to the best of their ability this weekend. Having five guys qualify for states is by far the best we have done in recent memory. I think we all want to wrestle well, honor our teams and coaches, and hopefully bring some hardware back to Vienna."
More like this story