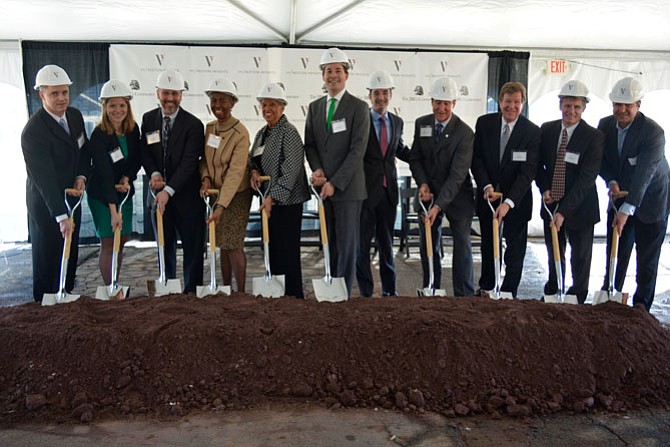 The JBG Companies broke ground on VY, a 385-unit apartment community—along with 89,000 square feet of retail—in this next phase of the mixed-use neighborhood at Reston Heights.
The 483,000-square-foot mixed-use VY is a continuation of JBG's Reston Heights district, which includes several existing properties on Sunrise Valley Drive. This new phase of development will create a pedestrian-friendly, well-defined neighborhood on the south side of the Dulles Toll Road. JBG is leveraging their well-known placemaking expertise to create active community spaces integrated throughout walkable retail, including a public plaza lined with outdoor dining, a play area and an amphitheater for programmed events. Future phases at Reston Heights could include an additional 375,000 square feet of mixed-use space.
"Reston continues to be a thriving submarket, and JBG is pleased to be expanding our strong presence here," said Principal Greg Trimmer. "VY at Reston Heights will be an active destination with social public spaces, new living options, and new shopping and dining for all of Reston."

In addition to being near the future Reston Town Center Metro and the Wiehle Avenue Metro station on the Silver Line, VY is a 10-minute drive from Dulles International Airport.
JBG is the single largest real estate owner in Reston with properties at all three planned Metro stations, including two hotels, seven office buildings and several hundred residential units—a significant local portfolio of more than 2 million square feet in Reston.
For more information, visit JBG.com or find them on Twitter @TheJBGCompanies and Facebook at facebook.com/TheJBGCompanies.