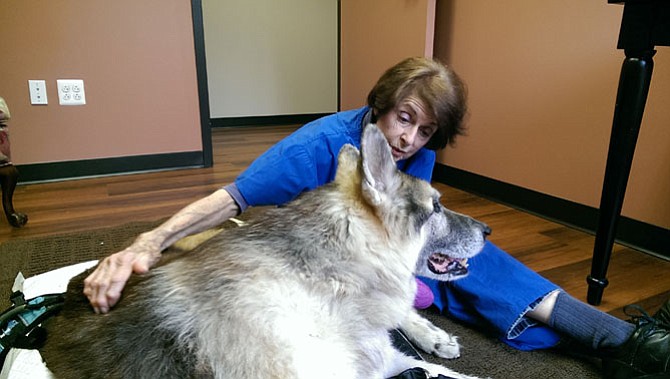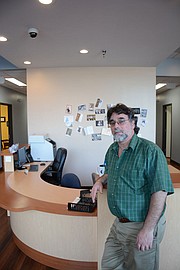 Bettejeanne "BJ" Hammond much prefers the term "body work" to massage. "Open wine and get out the candles, that's what people think of massage," she said. "They think it's to relax, but it's so much more than that."
Hammond, who lives just southeast of Charlottesville, sat on the ground, her hands gently rubbing the paw pads of an immobile 16-year-old Shiloh Shepherd named Ochi. Ochi began showing symptoms of degenerative myopathy eight years ago -- when veterinarians gave her a year or two to live. She's had a cancerous toe removed and lost the ability to walk last year.
At the limits of conventional medicine and with vets unwilling to operate on her, Ochi's owner Monique Anthis-Hunt of Fairfax Station decided to try a more holistic approach. She began getting acupuncture treatments for Ochi and then added body and energy work with Hammond.
Before the more non-conventional work, Ochi's condition had worsened to the point "she was scared of her own shadow outside of the house," Anthis-Hunt said.
"She's much more open now, it's helped with her psychology," she continued.
Ochi panted comfortably while Hammond moved her hands calmly over her whole body, beginning distributing energy. She worked methodically, from head to tail, breathing with the animal and speaking to her softly.
"At the same time I'm giving to her, she's drawing from me," Hammond said.
FOR HER OWN FITNESS, as well as recovery from an accident, Hammond starts each day with pilates-type exercises to help strengthen and increase flexibility in her back and hip.
"I understand the dynamics of being inhibited in some way," she said. "The physical, mental, emotional aspects all have to be treated."
Hammond divides her time healing between house visits near her home and the Veterinary Holistic Center in Springfield, which opened in September 2015 and houses pet chiropractors, Chinese herbalists, acupuncturists, physical therapists and bodywork healers.
Fairfax Station resident Dr. Jordan Kocen, director of the center, began his career as a general practice veterinarian. In 1990, he became the first vet to practice acupuncture in the area at a clinic in Burke. Later he added homeopathy to his practice and by the mid-90s, all but ten percent of his work was doing one of those two non-conventional treatments.
Dr. Kocen received more and more referrals from other vets for acupuncture and homeopathy, and he knew pet owners were going to different centers all over the region for other assorted holistic treatments.
"That's silly," Kocen remembers thinking. "Let's put it all in one place. No one was doing it, so I thought 'I guess I have to.'"
The goal, Kocen said, with each therapy is stimulating the body's own systems as much as possible, gradually lowering the dose of whatever treatment is being given.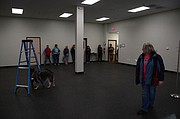 In 1999, Kocen started a multi-faceted holistic practice at the VCA SouthPaws Veterinary Specialists & Emergency Center in Springfield. He moved with SouthPaws in 2005 to Arlington Boulevard. Eventually, Kocen decided the practice needed more space, independent space.
The Veterinary Holistic Center opened in north Springfield last September with six exam rooms and a 1600 square-foot multi-purpose room in back. That open space with dense, rubbery flooring is used by various groups for classes including obedience training, puppy socialization and "nose work," a type of competitive odor-identification.
Heidi Meizner, an animal lawyer from Alexandria, is one of two teachers of a nose work class that involves dogs trying to locate scents of birch and clover in objects taped to the wall.
"They get to do what they like to do, what they're really good at," Meizner said. "This is a great space for us."
Kocen, Hammond and the other associates see the practice not as a replacement for conventional veterinary medicine, but rather an extension.
"It's very good for what it does," Kocen said about conventional medicine, "but there are limits to what it can offer."
MAKING SURE those options have been pursued, Kocen said he will often recommend a client get blood work and or X-Rays for their pet and then call the center back. "We need to know what's wrong, and then if there's anything we can offer."
This goes for dogs and cats, the vast majority of Kocen's patients, but holds true for bunnies, squirrels and the occasional duck.
"My job is an animal advocate," he said. "We want to make it work for you, to work with the regular vet, to be an integrated practice."
For Ochi the Shepherd, options in conventional medicine have long since been exhausted, though her owner Anthis-Hunt maintains "the spirit is willing."
"She's a wonderful demonstration that life is always present until one decides to let go of it," Hammond said.