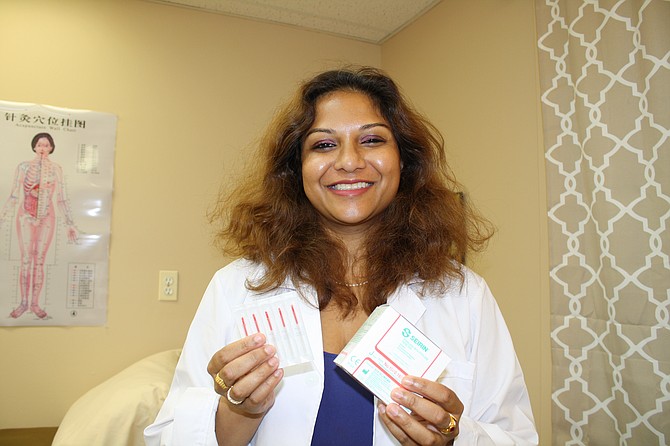 Springfield — According to mainstream science, the practice of acupuncture involves an acupuncturist inserting needles into a person's body with the aim of balancing their
energy. This, it is claimed, can help boost wellbeing and may cure some illnesses.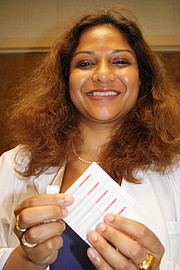 If you ask Anita Tadavarthy, a Springfield resident and owner of "Empirical Grace," on Traford Lane, "acupuncture is phenomenal for pain, any sort of pain," she said. Her mission statement reads "Empirical Grace provides quality acupuncture therapy to heal our patients," and the vision is "To use the wisdom of acupuncture and Chinese medicine to heal our patients."
Tadavarthy is a West Springfield High School alumni that graduated from the University of Virginia with a business degree, worked a few high-level finance jobs, and discovered "I was really intrigued by acupuncture." She moved to Oregon and graduated again from the Oregon College of Oriental Medicine, and began practicing acupuncture in Portland. She then got certified in Virginia, moved back and opened her business in early September. "The needles are really powerful," she said.
Over those years, her family opened a free clinic in India, treating many people, and she traveled there to help out. "We had people from all over India," she said. The local hospital brought in some of their patients, and then the local police brought in officers to be treated for knee pain.
Although she found some non-believers in Portland, just as anywhere else, her business was successful. Although it is most commonly used to treat pain, she's had women come in that were trying to conceive, and sought acupuncture as an aid. The acupuncture balances hormones, helps with "charting," and regulates their cycle. "Anybody I've treated that really wanted to get pregnant, got pregnant," she said. Acupuncture is also used to treat allergies, arthritis, back pain, carpal tunnel, insomnia, migraines and sciatica.
Tadavarthy decided to come back to Springfield where her parents live, realizing that it might be more popular on the West Coast, but was surprised at the level of education she's seen leads to many open minds. "This is my passion," she said. Tadavarthy uses meditation to complement acupuncture as well.
In addition, she teaches acupuncture at the Virginia University of Integrated Medicine in Fairfax.
Virginia is no stranger to eastern medicines and has a chapter of the Acupuncture Society of Virginia which is called "a professional membership organization of Licensed Acupuncturists dedicated to promoting the practice of Acupuncture and Oriental Medicine in the Commonwealth of Virginia." ASV headquarters is located in Warrenton.
World Acupuncture Day is Nov. 15, 2018