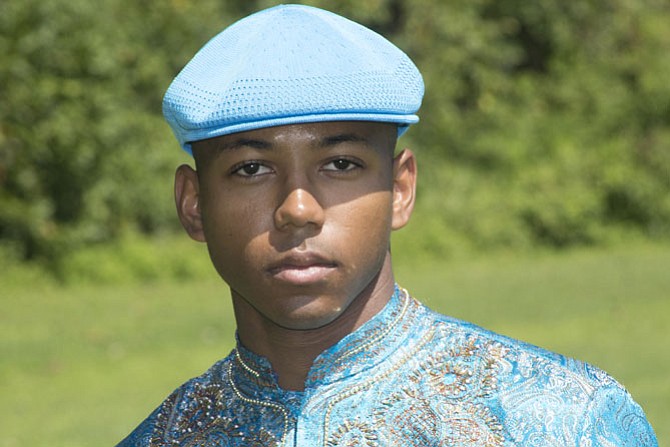 Where and When
"Comedy & Music Night with Adam Ruben and Victor Haskins" at the Jewish Community Center of Northern Virginia (JCCNV), 8900 Little River Turnpike, Fairfax. Performance on Saturday, Jan. 17, at 8 p.m. Tickets: $24 adults, JCCNV members & seniors (65+), $20 under 30. All tickets include one beverage. Tickets $20-$29. Call 703-537-3000 or visit http://www.jccnva...">www.jccnvarts.org
Warm up an expected cold January night with spirited youthful stand-up comedy and sparkling live jazzy music from two up-and-comers in the D.C. area. It promises to be a unique evening of melded performance from emerging artists with their own innovative entertainment notions.
"Our annual comedy night is a favorite with our patrons," said Dan Kirsch, Jewish Community Center of Northern Virginia (JCCNV) cultural arts director. Kirsch went on to note he expects audiences will be "blown away" at the work of comedian Adam Ruben and jazz musician Victor Haskins.
In interviews, Haskins and Ruben agreed their joint performance will "transcend demographics so it has a universal appeal." Both aim to shift audiences away from the mundane of their day-to-day world.
Ruben is more than a comedian. He teaches storytelling with the D.C. area's well-regarded "Story District." He writes a humor column "Experimental Error" for the journal Science; has made appearances on the Food Network, the Science Channel, the Travel Channel, and NPR's "All Things Considered." He is the author of the satirical "Surviving Your Stupid, Stupid Decision to Go to Grad School."
At 23 years old Haskins is a world-class trumpet player and composer/arranger. He is the originator of "ImproviStory," a concept in which storytelling drives the creation of improvised music springing from audience interactions. He has released an album of original compositions, The Truth. He has been the director of jazz outreach for the performing arts, National Symphony Orchestra Education Department.
Ruben indicated he wanted people to look away from their digital devices and their daily grind. "I'd like the audience to come away thinking about one aspect of life in a slightly different way. That's the goal of most art, and it's simultaneously a little bit and a lot to ask for."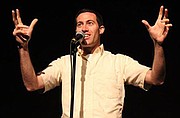 Haskins invited patrons this way: "Experience something you've (probably) never experienced previously--contributing both your ideas and imaginative energies to be a part of an extemporaneously created musical performance."

The JCCNV event isn't expected to be an evening "to just sit back and listen; for the audience will take part in its creation," added Haskins. "Come out for a night of laughter and creating music that you will have a hand in creating, and follow that with getting to share a lot of laughs!"
Be ready for a performance where little is to be taken too seriously, while experiencing an evening where you get to contribute, too.