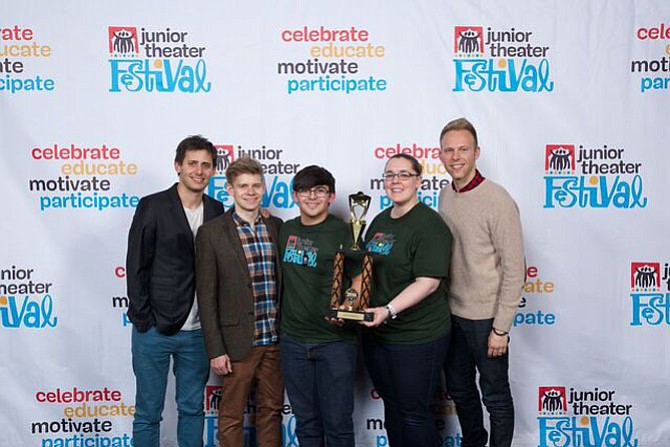 Students from Lopez Studios, Inc. in Reston won a Freddie G Award for Excellence in Ensemble Work and student Kendyl Florence earned a Freddie G Outstanding Student Director and Choreographer at the 2016 Junior Theater Festival, held Jan. 15, 16 and 17 at the Cobb Galleria Centre in Atlanta, Ga.
The 18 students presented selections from Disney's "Beauty and the Beast JR."
The students who traveled to the Junior Theater Festival on behalf of Lopez Studios, Inc. Performing Arts School are: Tiffany Bennett, Lena Butterman, Jillian Dalrymple, Cady Denk, Laila Gallant, Jason Itkin, Tess Jannery-Barney, Mary Kurbanov, Sonia Mott, Lindsey Newberg, Marcus Pennisi, Rachel Rubin, Sissy Sheridan, Keiko Tani, Nissi Toro, Jillian Upshaw, Alyssa VanLandingham and Logan Wagner.
Produced by the Junior Theater Group in partnership with iTheatrics, a leading educational theater company that creates innovative experiences and products for the public and private sector, the Junior Theater Festival is the world's largest festival celebrating young people and the transformative power of musical theater.
An international roster of stage and screen stars and industry professionals from all aspects of professional musical theater were on hand to applaud the 5,800+ attendees representing 115 educational musical theater groups from 28 U.S. states, the District of Columbia, South Korea and Australia.