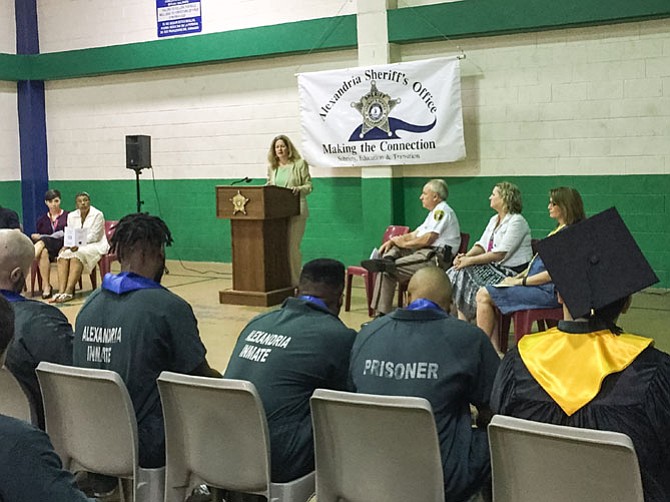 Sheriff Dana Lawhorne and his staff held a graduation ceremony on June 21 to honor several inmates at the William G. Truesdale Adult Detention Center for their recent educational achievements. During the ceremony, guest speaker Mayor Allison Silberberg addressed the honorees, congratulated them and encouraged them to continue striving for success.
Silberberg and Lawhorne then joined education coordinator Krista Sofonia as she presented two inmates with Certificates of Achievement for passing their General Educational Development (GED) examinations. Kaylah Davis and Julio Quiroga wore caps and gowns and were cheered by staff, other inmates and family members attending the ceremony. Three other inmates also recently passed their GED exams but were released prior to the ceremony.
In addition, Christopher Banibashar, John Langhorne, Neico Mills and five other inmates who did not want to be identified were also honored for successfully completing the Thinking for a Change (T4C) curriculum. The Sheriff's Office partners with Alexandria Probation and Parole (District 36) to deliver T4C to inmates prior to their release and Lisa Stapleton, Alexandria's chief probation and parole officer, joined the mayor and sheriff in recognizing the T4C participants. T4C is a behavioral change program for offenders that includes social and problem-solving developmental skills.