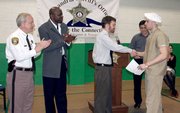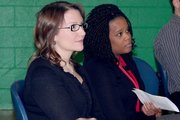 Sheriff Dana Lawhorne and his staff hosted a ceremony March 21 to honor the educational accomplishments of 14 inmates at the William G. Truesdale Adult Detention Center. Guest speaker Pastor Louis Whiting of My Father's House Christian Ministries addressed the graduates, inmates and staff, and shared his thoughts on faith and conflict.
Lawhorne also recognized Chief Deputy Tony Di Cesare, chief of the Inmate and Support Services Bureau, who is retiring after 30 years of dedicated service.
Education coordinator Krista Sofonia then presented six inmates with Certificates of Achievement for passing their General Educational Development examinations. Nadia Ahmed, Billclinton Bonanjah, David Flowers, Jalen Ford, Jonathan Fuentes and one inmate who did not want his identity published wore caps and gowns and were cheered by family members attending the ceremony. Another inmate who was released before the ceremony also passed his GED exam. Sofonia acknowledged the work of GED volunteers, including Mellisha Bedminster, a graduate student at Marymount University who is currently doing an internship at the Detention Center.
Seven other inmates donned chef's hats as they were recognized for earning their ServSafe Food Protection Manager Certification, a locally and nationally recognized certification which will make them more competitive candidates for restaurant and food service employment opportunities. The eight-hour program, administered by ORS Interactive of Falls Church, covered food safety regulations and concepts, including time and temperature control, preventing cross-contamination, cleaning and sanitizing, safe food preparation, receiving and storing food, and methods of thawing, cooking, cooling and reheating food. Officials from ORS joined Lawhorne in congratulating Matthew Booker, Michael Gibson, Walter Gomez, Eric Parks, Fernando Payne, and two other inmates who did not want their identities published.