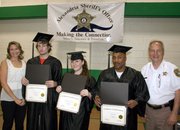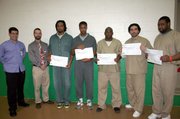 The Alexandria Sheriff's Office hosted a graduation ceremony July 19 to honor the recent educational accomplishments of 14 inmates at the William G. Truesdale Adult Detention Center. Sheriff Dana Lawhorne congratulated the inmates not only for their special achievements but for challenging themselves and investing in their future.
Education coordinator Krista Sofonia presented Alvin Bell, 54, Stephanie Schwab, 27, and Richard White, 21, with Certificates of Achievement for passing their General Educational Development examinations. They wore caps and gowns and were cheered by visiting family members invited to attend the ceremony, as well as by fellow inmates and the Sheriff's staff. Four other inmates who were released before the ceremony also passed their GED exams. Sofonia acknowledged the work of GED volunteers, including Sarah Goshorn, a graduate student at Marymount University who is currently doing an internship at the Detention Center.
Seven other inmates were recognized for earning their ServSafe Food Protection Manager Certification, a locally and national recognized certification which will make them more competitive candidates for restaurant and food service employment opportunities. The eight-hour program, administered by ORS Interactive of Falls Church, covered food safety regulations and concepts, including time and temperature control, preventing cross-contamination, cleaning and sanitizing, safe food preparation, receiving and storing food, and methods of thawing, cooking, cooling and reheating food. This was the first time the Alexandria Sheriff's Office offered this type of training to its inmates.
Officials from ORS joined Lawhorne in congratulating Tamer Castle, 35, Eric Elder, 33, Eric Hawkins, 41, Marcel Washington, 24, Rashaud Westbrook, 20, and another inmate who did not want his identity publicized. Some of these inmates are already working in the Detention Center cafeteria. The seventh ServSafe graduate was released prior to the ceremony.