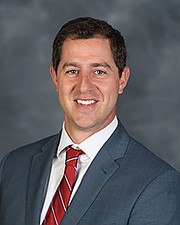 Paul Basdekis, who was named principal at Riverside Elementary School in July 2015, has been named the Fairfax County Public Schools (FCPS) 2016 Outstanding First-Year Principal.
To tackle the school's accreditation with warning in science by the Virginia Department of Education, Basdekis took a look at data to come up with a plan to raise student achievement. He developed quarterly student recognitions for both citizenship and work habits, encompassing "Effort and Attitude," the school's new motto. To recognize improvement, parents receive a personal call from the principal when their child earns top marks and high-achieving students are recognized in the monthly newsletter.
As a result of these new initiatives, unexcused absences decreased by half and behavior referrals to the office decreased. Basdekis hired a science resource teacher to create a lab to support STEAM (science, technology, engineering, art, and math) programs and increase student engagement in science.
Basdekis earned a bachelor's degree from Mount Saint Mary College in New York and a master's in educational leadership from George Mason University. He began his career in FCPS as a sixth grade teacher at Forest Edge Elementary School, then served as assistant principal at Woodley Hills and Fort Hunt before being named principal at Riverside. As an undergraduate, he was named to the NCAA All-American Baseball Team.