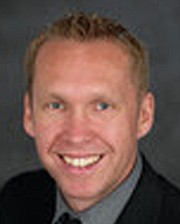 As the new principal, Joshua Douds looks forward to creating relationships with the entire Centreville Elementary community. Douds began his career with Fairfax County Public Schools in 2001 as a teacher at Westlawn, Centreville, and Lees Corner elementary schools. In 2013, he was named assistant principal at Union Mill Elementary School, where he served prior to being named principal of Centreville Elementary school.
As an instructional leader, Douds served as co-administrator of Westlawn's summer program, was a co-facilitator of the Chantilly Pyramid Math Literacy Team, and an extended school year principal. He has served as an adjunct professor at George Mason University (GMU) and a consultant for the Virginia Initiative for Science Teaching and Achievement (VISTA) Program on special education best practices. Douds earned his bachelor's in elementary education and bachelor's in special education at Clarion University. He earned a master's in educational leadership from GMU.
Kathleen Case, principal of Union Mill Elementary School and former colleague of Douds, praised his leadership during his time there as assistant principal. When Douds arrived at Union Mill he took many steps to improve the school community through academic measures such as bringing back the math workshop to improve test scores, working with special education teachers, and initiating a family fitness club.
Case describes Douds as someone with a "can-do attitude," regardless of the problem, "he always thinks there's a solution." Most importantly, Douds is "all about building relationships," with teachers, staff, families, and students, everything else comes from those foundational relationships.
Dr. Angela Atwater, assistant superintendent for Region 4, appointed Douds to his new position. She said he applied through the standard process for administrators wishing to lead new schools. Upon applying, Douds had a great reputation for being a strong instructional leader with immense support of special education programs, she said. Part of the application process was participating in a panel interview with staff and parents from the Centreville Elementary community, from which he emerged highly recommended.
Atwater knows that she will see his leadership skills grow as he grows as an educator. "Douds has such a positive effect that improve the already positive culture of Centreville Elementary," said Atwater.
Looking to the future, Douds hopes to bring his enthusiasm for learning to the Centreville Elementary community. Douds explained that he "hopes to empower teachers to do what they love and create an environment of strong communication."
Additionally, he wishes for students to recognize the power of effort and encourage students to try hard and reach their fullest potential. Douds believes "that good communication between home and school is the best way to ensure the success of the student."