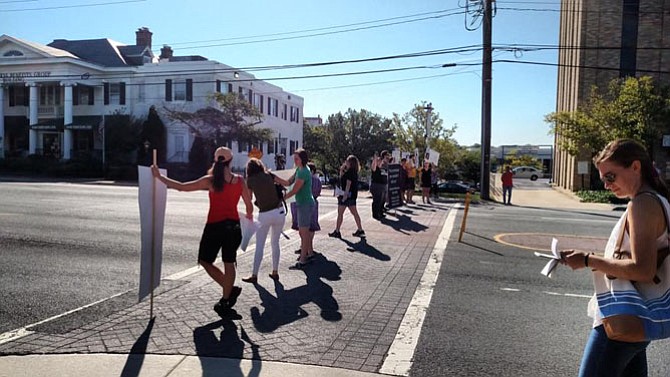 Four protesters were arrested Monday morning at a protest outside the Fairfax Courthouse over the February 2015 in-custody death of Alexandria resident Natasha McKenna.
The demonstration, which was organized by the Northern Virginia Chapter of the national organization Showing Up for Racial Justice (SURJ), began around 8 a.m and included around 20 protesters.
It coincided with members from SURJ delivering a petition to Fairfax County Sheriff Stacey Kincaid demanding she fire the deputies who handled McKenna's extraction from the jail, which resulted in her death.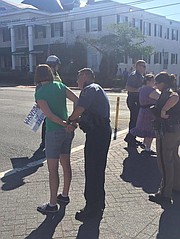 McKenna, who was 37 at her death, was diagnosed with mental illness in her youth. As deputies attempted to prepare her for transport to the Alexandria jail, they forced her to the ground, then restrained her limbs in a chair and eventually covered her head with a spit hood. One deputy used a taser on McKenna four times over the course of the incident. McKenna lost consciousness and was transported to Inova Fairfax Hospital where she later died.
Cat Clark of Alexandria, an activist and organizer with SURJ, said the petition was delivered, but not acknowledged by Kincaid's office. Because of the petition's reception, Clark said the demonstrators decided to spread across Chain Bridge Road from the Courthouse to draw more attention.
The Sheriff's office did not respond to requests for comment on the petition prior to going to print.
"When a naked woman who is mentally ill is shackled to a chair, bag over face, basically tased to death and there are no repercussions of any kind," Clark said, "people need to speak up, hold her name in the light, stand up for her."
Commonwealth's Attorney Raymond Morrogh completed an investigation of the incident and concluded there were no grounds for criminal charges. The Sheriff's office has completed its own administrative investigation but has not said whether any of the deputies faced discipline.
Demonstrators chanted and held signs reading "Black Lives Matter," "Justice for Natasha McKenna" and "You promised you wouldn't kill me" (which McKenna can be heard saying on a video Kincaid released of the extraction incident).
City of Fairfax Police responded to the incident, as demonstrators in the roadway were illegally obstructing the free passage of others, a city ordinance.
Police warned the protesters they would be arrested if they didn't leave the street, spokesperson Sgt. Natalie Hinesley said. All but four made their way to the sidewalk. Those that remained were arrested.
Hinesley said the four were taken before the a magistrate immediately and were subsequently released under their own recognizance.
A statement from SURJ said Brendan Orsinger, 34, was one of the four arrested for remaining in the street. "Our silence perpetuates violence," the statement attributes to him. "Too often we take our privilege and walk away from tough conversations. I don't want to be complicit in oppression anymore."
The July 11 protest represented one of seven SURJ chapters around the United States taking nonviolent actions calling for changes in policing on the same day.
An administrative investigation took place within the Sheriff's Office to determine whether policies had been upheld or violated and if any disciplinary action should occur. The Sheriff's office wouldn't comment on results of the administrative investigation: whether any of the deputies had been disciplined in any way, whether any policies had been changed in response.
Following the incident, Kincaid did suspend the use of tasers in the jail.