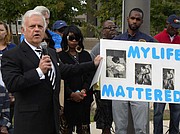 Natasha McKenna's mother is seeking more than $15 million in a wrongful death and gross negligence suit filed against Fairfax County Sheriff Stacey Kincaid and five deputies.
McKenna, an Alexandria resident who was diagnosed with mental illness as a young girl, was scheduled to be transported to City of Alexandria Police in early February 2015, where she faced charges.
She had previously been arrested in Fairfax County on or around Jan. 26, 2015, and was taken to Fairfax County Adult Detention Center.
The deputies who were attempting to move McKenna were members of a Special Emergency Response Team (SERT), tasked with transporting McKenna from her solitary cell in Fairfax to Alexandria.
McKenna became agitated while the deputies were attempting to move her, and they used a number of restraints on her and delivered four shocks with a taser.
After four applications of the taser, McKenna lost consciousness. She was taken to Inova Fairfax Hospital, where she was pronounced dead Feb. 8, 2015.
The Office of the Medical Examiner determined McKenna's death to be caused by "excited delirium" and not criminal.
Commonwealth's Attorney Raymond F. Morrogh made a similar determination after completing his own review of the incident, affirming that there were no grounds to pursue criminal charges against any of the deputies who were involved.
An administrative investigation took place within the Sheriff's Office to determine whether policies had been upheld or violated and if any disciplinary action should occur.
As of May 24, 2016, that investigation had not been completed, according to Sheriff's Office spokesperson 1st Lt. Maegan Timothy. Nine days later, Timothy confirmed the investigation had been completed. The Sheriff's office wouldn't comment on results of the administrative investigation: whether any of the deputies had been disciplined in any way, whether any policies had been changed in response.
Following the incident, Kincaid did suspend the use of tasers in the jail.
"We are in the process of looking at all of our policies to update and include best practices from law enforcement agencies and correctional facilities across the country," Sheriff's Office spokesperson Andrea Ceisler said in an email. "We are also working to incorporate recommendations of the Ad Hoc Police Practices Review Commission and the Police Executive Research Forum (PERF)."
As of June 10, the spokespeople said the Sheriff's Office had not yet been served with the lawsuit.
The June 3 lawsuit was filed on behalf of McKenna's mother Christine Wilson. The five counts include gross negligence, wrongful death and battery.
In the complaint, the family's lawyer Harvey J. Volzer says the deputy's use of the taser on McKenna was, "wholly unwarranted and contrary to, and in breach of, the recognized standards for sheriff's orders in the performance of their duties under same or similar circumstances, and demonstrated an utter disregard of prudence that amounted to a complete neglect for Ms. McKenna's safety and rights."
Volzer did not respond to several requests for interviews prior to going to print.
The $15 million in damages are being sought include compensation for McKenna's daughter who was seven years old at the time of her mother's death, according to court documents.