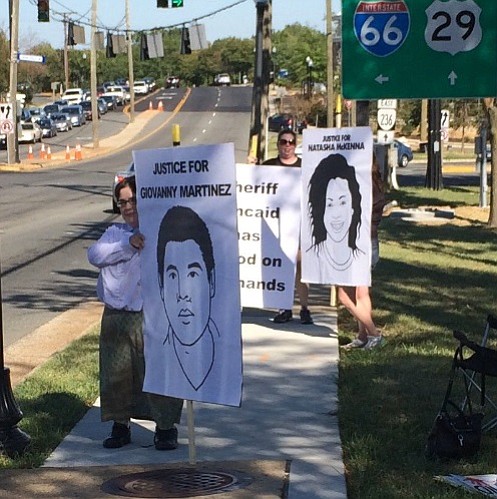 The Northern Virginia chapter of the group Showing Up for Racial Justice (SURJ) organized a demonstration at 4 p.m. on Sep. 14 along Lee Highway in Fairfax, calling for justice for Natasha McKenna and Giovanny, or Jovany, Martinez.
McKenna died after being tasered several times while in custody of the Fairfax County Sheriff's Office in Feb. 2015.
Martinez, whose first name Fairfax County Police write as "Jovany," died after being shot by Sheriff's Deputy MDS Patrick McPartlin last month.
McPartlin was one member of the five-man SERT team that attempted to transport and ended up forcefully restraining McKenna before she experienced a health crisis.
He was assigned to duty at the hospital and responded to a call for back-up from Inova security. Martinez had already attacked guards and, FCPD said, was advancing on McPartlin with a sign post raised in the air when the deputy shot him several times.
The protest, which occurred during rush hour at where Highways 29 and 50 meet in Fairfax, also called for the resignation of Sheriff Stacey Kincaid.