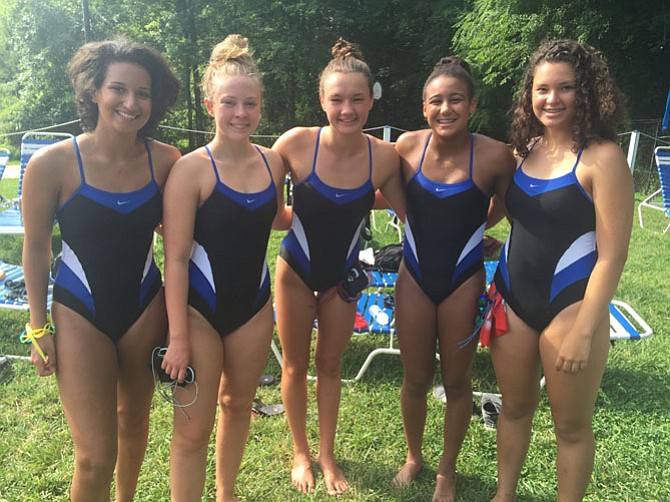 The Sully Station II Piranhas battled Country Club Hills in the third meet of the season on July 9. Swimmers cheered on teammates throughout the morning and gave a valiant effort in the blazing sunshine before ultimately falling, 241-179.
The 13-14 and 15-18 girls once again led the way with dominating performances across the board. Double event winners Faith Alston (freestyle and backstroke) and Delaney Kennedy (breastroke and butterfly) captured two victories each and points were added by teammates Liliana Glancy and Kelly Elson. Eighteen-year old Caitlin Campbell was a standout, bringing home wins in back (33.69) and fly (33.71). She was joined in victory by teammate Karenna Hall in free (30.35) and Georgia Stamper in breaststroke (38.95), and points were also tallied by Carly Logan.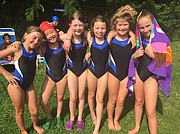 The team's littlest hands and feet, 8&U boys and girls, also had noteworthy swims. Double event winner Ehma Stalfort placed first in backstroke (24.41) and butterfly (22.32) and Jason Li won breaststroke in 26.38. Points were added by AJ Sexton, Payton Susko, Alyssa Seng, and Emily Hammond.
Two more Piranhas captured two individual victories: 11-year old Collin West in freestyle (32.56) and fly (38.73), and 11-year old Angela Cai in free (31.45) and breaststroke (40.20). Teammate Caroline Li brought home the win in fly (36.34) and strong swims were also turned in by age group teammates Gabriel Quitugua, Dorothy Cervarich and Madison Stalfort.
The 15-18 boys demonstrated speed and depth with excellent races in individual events and relays. Twins Jack Jiang (27.53) and Nick Jiang (28.08) completed a 1-2 punch in freestyle and were joined on the leader board by brother Michael Jiang in breaststroke (36.19). Kellen Campbell brought home two second place finishes in competitive races in backstroke (31.02) and fly (30.69). His brother Brody Campbell notched points in back (34.57) and breaststroke (37.85). The boys combined their talents to cruise to an easy 14-second victory in the medley relay.
All Piranhas gave terrific effort in the pool. Nine-year old Alyssa Norris showed a lot of heart by competing up two age divisions in the 13-14 backstroke. Top 3 finishes were turned in by Simon Campbell, Hannah Kang, Isaiah Quitugua, Caden Seng, Hayley Norris, Anthony Kang, Mary Campbell, Colin Brown, and Ceciila Alquinta. Swimmers worked together to win five of 12 relays and never gave up until the final whistle of the morning.
SS2 has a busy week ahead with the Division 10 Relay Carnival on Wednesday, July 13 and the final home A meet of the season on Saturday, July 16 against Sleepy Hollow.