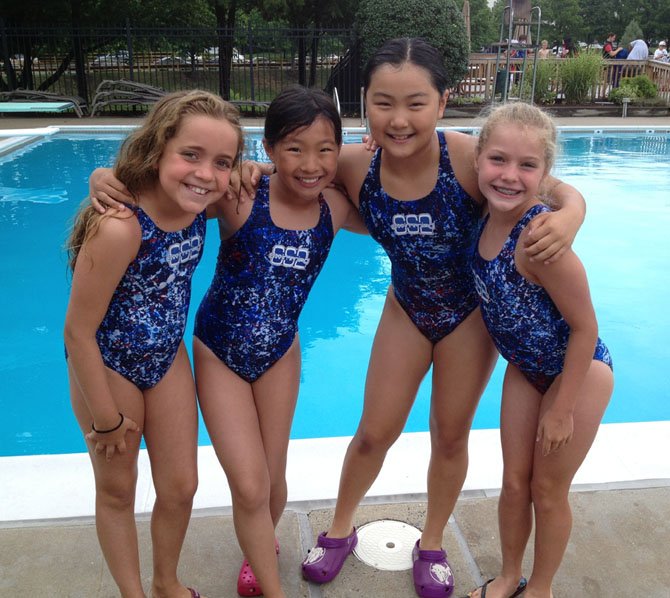 The Sully Station II Piranhas swam their best against a strong Poplar Tree squad on Saturday, June 28. There were many highlights over the course of the meet, including 59 personal best times, several outstanding finishes, and a sweep in the girls 11-12 fly by Taylor Smith (35.92), Delaney Kennedy (37.13), and Juliet Chiapello (38.56).
The 11-12 age group was anchored by double event winners Aidan Crisci in breaststroke (45.59) and fly (39.83) and Faith Alston in backstroke (36.61) and breast (37.97). Alston out-touched her opponent by .06. The boys relay brought home the win and showed depth with solid swims from Anthony Kang, John Henry Stamper, and Colin Brown.
The girls followed suit with a dominating relay win and excellent performances by Daeun Lee and Isabella Ibrahim.
The 9-10 girls once again proved themselves to be powerhouses in the pool. Caroline Li captured the first Piranha victory of the meet with a freestyle swim of 37.67. Maddie Stalfort blew away the competition with a 45.30 in backstroke. Angela Cai brought home the remaining two events with a 45.86 in breast and 17.75 in fly. The girls combined their talents with Callie Ver Planck to take home the relay crown.
Four more Sully 2 swimmers notched victories for the team, including Caitlin Campbell in fly (33.06) and breaststrokers Harrison Saint Germain (51.83), Flynn Crisci, (37.58) and Georgia Stamper (37.58). Crisci combined with teammates Kellen Campbell, Harmon Saint Germain, and Max Morris to dominate the 13-14 boys relay race. Many other Piranhas added points on the board with key swims, including 8&U standouts Hayley Norris, Summer Franconeri, and Emerson Saint Germain, 13-14 swimmers Karenna Hall and Brody Campbell, and 15-18 leaders Madisyn Graham, Michael Jiang, Jack Jiang, Connor Pangman, Kevin Jiang, Nick Jiang, and Jocelyne Amos.
Special congratulations go out to Swimmers of the Week Ehma Stalfort, Gabriel Quitugua, and Kelly Elson. This new award recognizes SS2 swimmers who demonstrate perseverance, dedication, and sportsmanship.