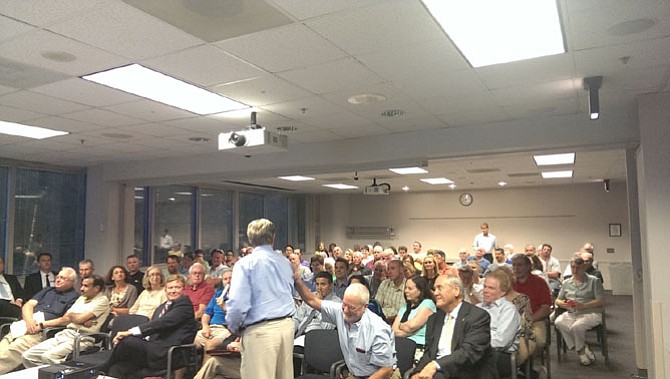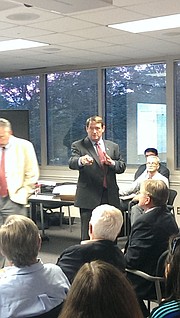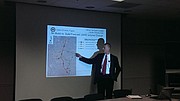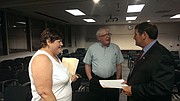 Dianna and Wayne Pennington own property at the corner of Popes Head Road and the Fairfax County Parkway. With an extension of Shirley Gate Road having been on Fairfax County's transportation plan since 1991, they say they can't sell the land with the project up in the air.
"Our biggest concern is when," Wayne said. "I think we've waited long enough."
The Penningtons felt more encouraged after Tuesday night, July 19, when they joined a conference room full of stakeholders with adjacent properties at the Fairfax County Government Center to hear updates on the topic.
The goal of extending Shirley Gate would be affording an alternate route between the Fairfax County Parkway and Braddock Road, as well as giving options for new interchanges north of Popes Head Road and at the Shirley Gate Road extension to relieve traffic congestion on the Parkway, Braddock, Popes Head and Ox Road.
An additional interchange option including three levels and bidirectional roadways was designed to better accommodate the concerns of residents on both sides of the Fairfax County Parkway.
The roadway project would also provide an opportunity to facilitate access to Patriot Park that would avoid First Street, minimize impact on the neighborhood and wetland area.
Some members of the audience questioned whether the park should be involved in the project, whether the "tail is wagging the dog."
Herrity responded to what he said has been misinformation about the project as a whole.
"This was a transportation project first," he said. "It's not all about the park. They delayed the park -- it's an access to the park project second."
There were others that joined the Penningtons in their concern over the project's timeline. The only response they received was that it should be moving forward in the next ten years.
Transportation Planning Division Chief of Planning Section Leonard Wolfenstein said the Virginia Department of Transportation, which is the lead on the project, should be filing its design contractor Request for Proposals soon.
Once a designer is chosen, he said, there will be more public involvement opportunities as further "critical decisions" are made on the project.
Another community member suggested there be a collaborative, interactive website with information about the project for stakeholders to engage with transparent updates.

Fairfax County Department of Transportation Director Tom Biesiadny directed community members to the County's website for the Shirley Gate project, available here.
He also said that more comprehensive master plan for the project would be available by mid-August, and that it would become more specific as time goes on.
"If I could start building tomorrow," Herrity said, talking with community members after the meeting, "I would."