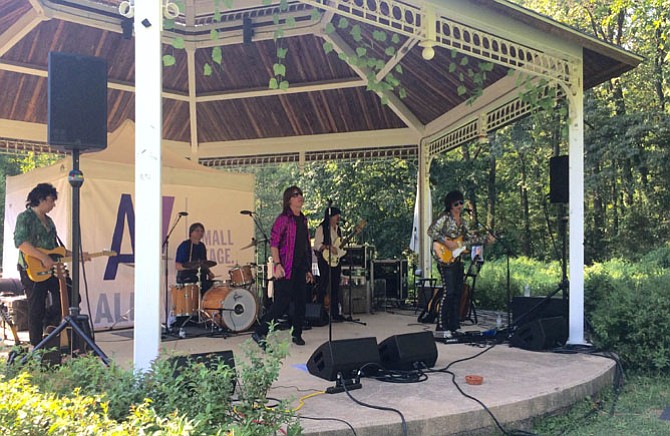 See more summer concert series photos on Facebook.
McLean Central Park held the penultimate installment of the Alden Theatre's 2016 free summer concert series on Sunday. Satisfaction, a Rolling Stones tribute band, played for nearly two hours as part of the "I Volunteer as Tribute" themed series.
Tom Culligan, who attended the concert with his wife Eileen Culligan, said they enjoy attending community events like the concert series.
"I think it's really important because you have to live together, and I think it's just a sign of support for the community and for each other to have everybody come out," he said. "You get old, young, all races. It's really a nice mix out here."
Satisfaction performed in the near-100 degree heat for a crowd located primarily in shady areas of the park.
"It was worth it, even though it's 100 degrees. I was determined to come," said Julie Salins-Kennedy, who came from Gaithersburg, Md. to see Satisfaction. "I love rock and roll, I love to dance. It's just fun to me."
Salins-Kennedy said she has seen Satisfaction four times, and has been a fan of The Rolling Stones since she was a teenager.
Some concertgoers said seeing tribute bands brings back good memories.
"It brings back the memories of the music that we grew up with in high school and college, it brings back a lot of good memories. We enjoy listening to it," Maura Young said.
Next Sunday, Still Surfin', a Beach Boys tribute band, will take the stage at McLean Central Park, concluding the five part series that has featured a different tribute band each Sunday in July.