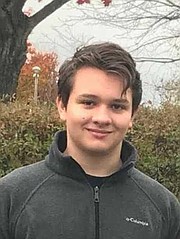 Fairfax High junior Jacob Major, an honor student and a member of his school's Family, Career and Community Leaders of America (FCCLA), will soon be headed to Japan. He recently won an FCCLA/Kikkoman Scholarship to participate in the Japanese Exchange Program through Youth For Understanding USA.
FCCLA is a national student organization that helps young men and women become leaders. And while doing so, they address significant personal, family, work and societal issues through Family and Consumer Sciences Education.
A graduate of Daniels Run Elementary and Lanier Middle School, Major has been an active member of the City of Fairfax FCCLA since eighth grade, when he competed in a STAR (Students Taking Action with Recognition) event. These are competitions in which members are recognized for proficiency and achievement in chapter and individual projects, leadership skills and career preparation.
Then, in both ninth and 10th grades, Major helped his school's FCCLA chapter earn recognition when he competed in the National Online Program for Families First. During this current school year, he's the curator of the chapter Website competing in the STAR event senior category.

In addition, he takes honor courses and has a 3.6 GPA. He's also working toward his Eagle Scout badge, has been active in Scouting for seven years and works part-time at the Kings Park Library. The scholarship he won is worth more than $11,000, and his FCCLA adviser, Susan von Schaack, is delighted for him.
"Jacob is an excellent choice to represent our chapter, community, school and country," she said. "He works very hard for our chapter and deserves this award."
While in Japan, he'll spend four to six weeks living with a Japanese host family. Among the many things he'll get to experience will be a Japanese tea ceremony, traditional Japanese foods and, possibly, a climb up Mount Fuji with a Japanese brother or sister.
The FCCLA Japanese Exchange Scholarship is administered by Youth For Understanding USA, a nonprofit international exchange organization. Based on the premise that international understanding may be achieved through individual people, the program emphasizes family living as the core of the overseas learning experience. The hope is that the opportunity to experience the daily life and culture of another country and its people will enhance students' awareness of international issues.