Food for Others started its Power Pack Program -P3- in Fairfax County four years ago "after we noticed the need and heard from school counselors. We started with eight schools and are now up to 28," according to Jessica Cogen, director of development and outreach of Food for Others. Cogen also emphasized that "we are seeking to expand the number of schools served this year to help meet the need."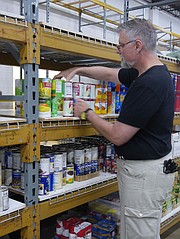 The P3 program provides non-perishable food to the most needy school students to supplement weekend meals. Most of the students receiving the P3 are eligible for free or reduced price school lunches. Some of the food is donated and some is purchased.
Food for Others receives much of its food from food rescue operations at grocery stores and other retail establishments with food drives providing most of the non-perishable food. The backpacks given to students containing the food are assembled at the warehouse on 2938
Prosperity Ave. by volunteers. "We do what it takes to get it done," Cogen said; "sometimes corporate and service groups team up and put together the backpacks off-site. We have many devoted volunteers from all across the community."
Each backpack contains two items for breakfast, lunch and dinner, two snacks and two drinks. The most needed items for P3 are Chef Boyardee and mac and cheese cups, 100 percent juice boxes, and cereal boxes. Orders usually go out on Mondays, Wednesdays and Fridays, but some schools have no storage space so they have to do it all on Friday morning.
Cogen says when it comes to determining which schools are serviced it is not necessarily a first-come, first serve basis. It also depends on finding volunteers who are able to pick up packs on a weekly basis and deliver them to the schools.
FOOD FOR OTHERS is a nonprofit organization that began feeding the poor in 1995. They describe their challenge: "The number of hungry families and individuals is often overlooked because of the affluent reputation of the area. However, 90,000 people in Northern Virginia are in need of help."
The distribution area is 82 percent Fairfax County and 16 neighborhood sites. The most needed items for these programs are canned chicken, spaghetti sauce, canned fruit packed in juice, canned chili and family-sized bottles of 100 percent juice.
The program has four main activities. Direct assistance available at the Merrifield warehouse, where families can pick up 3-5 days worth of nonperishables as well as milk, eggs and other fresh food. The free emergency food provided at the warehouse is through referral by social service providers. In addition, the USDA TEFAP program provides monthly food at the warehouse to clients meeting income guidelines. In FY 2015, Food for Others provided 22,517 emergency food packages to families directly from the warehouse. In addition, Food for Others provides food on some weeknights at 16 sites located in low-income neighborhoods. Food provided at the neighborhood sites is available with no referral necessary. They also provide bulk food items to about 20 community-based organizations that in turn distribute the food to families unable to meet their basic food needs. In 2015, Food for Others distributed 248,992 pounds of free food through the Community Partners. The warehouse is open Monday-Friday from 9:30-5 p.m. for people to pick up free food supplies or for donations of food to be dropped off.
CURRENTLY about 85 families have been coming to the warehouse Monday through Friday to pick up emergency groceries.
"Two weeks ago we added the element of client choice," Cogen said. She says this means the family can either take home the free box of prepackaged groceries or select for themselves from the items they have available. "This gives the clients greater dignity and can allow them to supplement what they already have." There is a rush at the beginning and the end of the month. Charitable contributions provide most of the budget for of Food for Others. Recently, Walmart gave $35,000 for the general support of their activities, Northrup-Grumman made a donation toward the school Power Pack program and Wegmanns Food Markets just finished a cash register drive. "The community makes this possible; these are just a few examples of recent contributions. "...Our goal is to bring the community together to help solve hunger" Cogen said.
Neighborhood Sites
Anyone in need of food may come to one of the following neighborhood sites at the times specified. The only question that is asked is, "How many people are in your household?" People should bring their own grocery bags.
Annandale: Thursday
Immanuel Methodist Church: 7901 Heritage Dr., Annandale. 6 p.m.
Bailey's and Culmore: 1st, 3rd, and 5th Monday of the month; every Wednesday
Bailey's: Parking lot of Bailey's Shelter, 3525 Moncure Ave., Bailey's Crossroads. 6 p.m.

Culmore: 6055 Glen Carlyn Dr., Falls Church. 6:30 p.m.
Burke: Monday, Thursday
Summit Oaks: Parking lot on Oak Bluff Court at the end of Oak Leather Drive, Burke. 6:30 p.m.

Crevenna Oak: Parking lot on Crevenna Oak Drive at the end of Oak Green Drive south of Burke Center Parkway, Burke. 7 p.m.
Fairfax : Monday, Thursday
West of Circle one-quarter mile on US 50, north on Draper Drive to end at Kingsbridge. Parking lot of Yorkville Apartments, facing Kingsbridge. 6 p.m.
Seven Corners: Tuesday, Thursday
Willston: In front of Building #6134 Willston Garden Apartments, off Willston Drive and west of John Marshall Drive, Falls Church. 6 p.m.

Patrick Henry: Greenwood Drive, west of Patrick Henry Drive near Building #6195, Falls Church. 6:30 p.m.
Springfield Gardens: Friday
Community Center behind Springfield Plaza at 7224 Commerce St., opposite SunTrust Bank, Springfield. 6 p.m.
Springfield - Chelsea Square: Tuesday
St. Mark's Lutheran Church, 5800 Backlick Road, in the basement of Fellowship Hall, on side adjacent to Chelsea Square Apartments. 6 p.m.
Springfield - Edsall Park: Thursday
Springfield Christian Church, 5407 Backlick Road, Springfield. Entrance is the southwest corner of the building, the opposite side from the office, door nearest the street. 6 p.m.