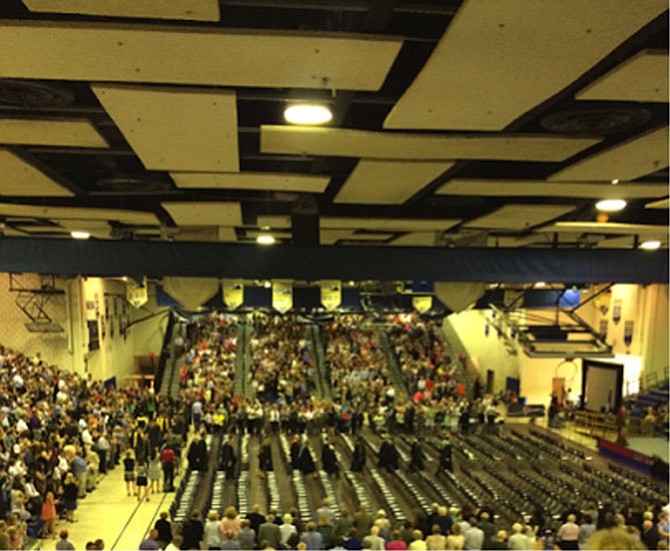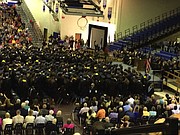 James Madison High School said farewell to their 2016 graduates on Wednesday, June 15. Their graduation ceremony was held at Robinson Secondary School.
Ninety-six percent of James Madison 2016 graduates will be attending college in the Fall; 600 scholarships were also awarded to the 2016 graduates, resulting in roughly $5 million being awarded to James Madison students; 132 Honors Graduates, all with a cumulative GPA average of at least a 4.0 for their entire high school career were recognized with a standing ovation.
Principal Gregory Hood addressed all the graduates: "Class of 2016, thank you for leaving James Madison High School and the community even better than how you found it four years ago. Your legacy will go on as you set the bar impeccably high for all those to follow you. Now from the heart, as Principal and a father I am so proud of you."
Following introductory remarks, the Faculty Award was presented to Ben Price. Principal Hood said a student like Price comes along once in a generation.
"It is no exaggeration to say all of his teachers have said he is the top student they have ever worked with."
The Faculty speaker at James Madison High School's graduation was a member of the Math Department, Don Buerkle. His speech, inspiring bursts of laughter and applause, revolved around reminding the graduates to remain thankful, grateful and passionate in all that they do following high school. In regard to each pillar of guidance, Buerkle quoted a movie he found combined his two passions of baseball and statistics: "Moneyball," a 2011 film about general manager Billy Beane's attempts to build a competitive team from the Oakland Athletics 2002 line-up. Buerkle first spoke on thankfulness. "If you are more appreciative of what you have, you will be less likely to be inclined to compare yourself to others. Replace comparing with thankfulness, and you'll be happy."
Based on the quote from "Moneyball," "I made one decision in my life based on money. And I swore I would never do it again," Buerkle made his concluding remarks. "My hope is that you'll make a decision based on earnest commitment and passion."
Special moments of the ceremony included a performance of "Imagine" by the James Madison High Choir and the presentation of a long stem rose to each graduate, as a reminder of the wisdom they attained during their time at James Madison High School.