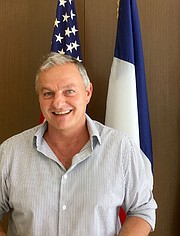 When a fancy French pastry chef takes to selling his baked goods from a food truck, you know that American food shopping habits have changed. Especially startling is that this pastry chef, Arnaud Herodet of Chantilly, worked as the pastry chef at the French Embassy in Washington for 18 years.
Why the change? For Herodet, that decision was simple: after so many years of taking orders from so many, he wanted to be his own boss. And his transition has been smooth and flawless. And thanks to his quality work and high standards, he was recently awarded an exceptional prize from the French government, the medaille du Merite Agricole for friends of the French government, making him a "chevalier de l'ordre du Merite."
"I was surprised," he said. "But I have worked many years in a foreign country as a French food expert." And expert he is. Just consider his lengthy work record even before he entered the embassy kitchens: His first assignment landed Herodet and his new wife in Tahiti (French Polynesia), where for four years he worked at the swanky Kia Ora hotel, on the island of Rangiora, a luxurious destination at which the clientele expected top-of-the-line meals throughout the day. He was hired as chef, but then moved on to being the pastry chef, and finally, executive chef. "Because in culinary school you don't learn how to make croissants," he said, "learning to make these basic French pastries was a challenge."
After four years in the sun and surf, the couple moved to D.C., where he took a chef's job at the now-closed La Brasserie restaurant on Capitol Hill. From there his jobs included stints at La Cote d'Or in Falls Church and in D.C., La Maison Blanche, La Lavandou and La Chaumiere. Then while cooking at the University Club in D.C., he also worked part time at the French embassy. When an opening came there, he decided to become the embassy's fulltime pastry chef.
That inaugurated many years of banquets, special dinners, and meals for the in-embassy restaurant and cafeteria. Herodet thrived there as the pastry chef, and polished his skills. But when he was tasked with baking 8,000 mini pastries for the reception of the newly elected French president several years ago, he decided to retire. Of course, he couldn't really leave all the butter, sugar, and flour behind, so he decided it was time to begin his own business.
And that he has, under the title of Arno's Pastries, starting at first at Gilbert's Corner in Aldie, Va. There on specific days, especially weekends, assorted food vendors appear selling a range of goodies, and Herodet makes that his destination for Saturdays and Sundays. But his popular food truck shows up at two other locations during the week, at the Reston Smart Market on Wednesday afternoons and at St. Veronica Catholic Church Smart Market on Thursday afternoons.

So what will you find as you study his truck's display? A range of tarts, pies, cakes plus petits fours, macaroons, and quiches, the most popular of which, he said, are the lemon meringue tartlets, the choux Chantilly, and the crème brûlée. But, he added, he is generally sold out of everything by the time that markets close. No wonder Herodet works 80 to 90 hours a week. "The next day I am off," he said, "is Jan. 20 (when trucks close for winter)."
See Arno's Pastries, http://www.arnospastry.com/.