How many Northern Virginia foodies know that executive chef Jeff Witte, formerly at the Airlie Center in Warrenton, has become the executive chef at McLean's Saint Germain Catering?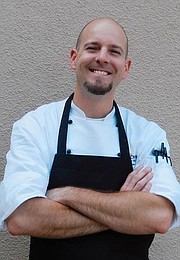 "When I first arrive, I say a lot of 'good mornings', check out the drivers' delivery schedules, and ensure that our orders have the final touch to ensure that we are surpassing our clients expectations."
–Jeff Witte
Probably not many, and if you loved his food back then, you need to host an event, or check into getting his "to-go" lunchbox, to sample his fabulous cooking.
A native Californian who grew up in a food-centric household, Witte attributes his passion for cooking from his childhood, learning to cook unique dishes such as fried catfish and grits from his mother, not a usual meal on a family table. In fact, as a teen, he worked in a number of Los Angeles' high-end restaurants where he learned to turn his passion into some basic culinary skills. From there, Witte enrolled in Le Cordon Bleu culinary school in Pasadena.
Seemingly, his move to Virginia was preordained: Witte did his externship at Airlie Center, and upon graduation, returned to Virginia to apply for a job there. This experience shaped his passion for using farm-fresh, local ingredients, sourcing as much as possible from regional farms.
Now with many years of high-end kitchen experience at Airlie, Witte was looking for a smaller venue to express his creative culinary vibes and he discovered McLean's Saint Germain Catering. Owned and operated by Mina Ebrahimi, who started in the food world at a very early age, working at her family-owned Tiffany's Bakery in Seven Corners. She later opened Saint Germain Café at Tyson's Galleria, and subsequently launched the catering business. "Mina has so much energy and business sense," said Witte. "She impressed me at the first interview."
Evidently that feeling was mutual. Witte, who has been on staff for several months, has immersed himself in this busy catering company. "We do an extensive amount of corporate catering," he said, "including breakfasts, lunches, dinners and a variety of business events, from Fortune 500 to local businesses," adding that Saint Germain also caters weddings, birthdays, anniversaries, baby showers, and a host of other private events.
To fulfill the day's orders, Witte said that he works with a full time staff of line cooks, pastry chefs, kitchen helpers, and truck drivers as the company is slowly expanding its area reach from Maryland, D.C., Northern Virginia, and Warrenton. And as part of their culinary jobs, the kitchen staff is always embellishing current recipes and coming up with different twists. "We have talked about using jalapeños in desserts. We always look for different elements on the cheese platters, for example," Witte said; "and we came up with Bundt cupcakes made with goat cheese, walnuts, and orange zest." The daily goal, he said, is to create some new items.
Not surprisingly, Witte's day starts rather early: he arrives at work between 4:30 and 5 a.m. "When I first arrive," he said, "I say a lot of 'good mornings', check out the drivers' delivery schedules, and ensure that our orders have the final touch to ensure that we are surpassing our clients expectations." Then he chats with his boss, the line staff, the pastry chefs, and then moves into the kitchen to make sure all stations are working properly.
"It has been quite something coming here," he said. "So much is going on that my head is spinning …in the best way!"
Saint Germain Catering, 8455 Tyco Rd, Vienna, 703-506-9396
Goat Cheese-Fig Bundt Cakes
Makes twelve 3 ½ ounce muffins or about 30 mini Bundt cakes
3 cups all-purpose flour
2 teaspoons baking powder
2 tablespoons honey
1 ½ cups sugar
10 tablespoon butter, room temperature
1 ½ teaspoon salt
2 medium eggs
5 ounces buttermilk
½ tablespoon vanilla extract
2 ¾ ounces vegetable oil
1 cup diced figs
Zest of half an orange
6 1/2 ounces goat cheese, crumbled
1 cup toasted walnuts, chopped
1 teaspoon ground cinnamon
1 tablespoon fig jam
honey butter from brushing on after baking
Coat bundt cake pans with a light film of fat or use appropriate pan liners. If using muffin tins, lightly grease or line with paper liners. Set aside. Preheat the oven to 375 degrees.
Sift together the flour, baking powder, and cinnamon. Set aside.
Cream together the sugar, butter, salt and honey in a mixer bowl with paddle attachment on medium speed until mixture is smooth and light in color, about 5 minutes. Scrape down bowl periodically.
Whisk together the eggs, buttermilk, vanilla, and oil. Add to the butter-sugar mixture in 2 to 3 additions until well combined. Scrape down bowl as needed.
Add the sifted dry ingredients and mix on low speed until evenly moistened. Fold in the figs, orange zest, fig spread, goat cheese and toasted walnuts.
Fill Bundt pans three-quarters full with batter; if using muffin tins, fill
with 3 ½ ounces batter.
Gently tap the filled tins to release and air bubbles.Bake for 15 to 20 minutes for mini Bundt cakes, 20 to 30 minutes for muffins, until golden brown and a toothpick inserted comes out clean. Cool for a few minutes in pan then unmold, and brush honey butter on the top.