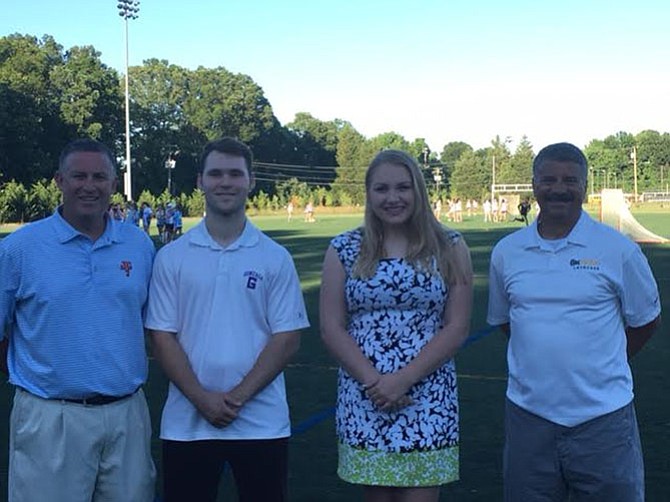 The winners of the Fort Hunt Youth Athletic Association's 2016 Jackson Casey Memorial Scholarships are Jessica Dorn and Henry Chastain. The $3,000 scholarships are in memory of Jackson Casey, a FHYAA athlete who died in 2011. The applicants were asked to describe in 750-1,200 words the life lessons they learned through their participation in Fort Hunt youth athletics.
Dorn, a senior at West Potomac High School, participated in softball, lacrosse, basketball and volleyball at the youth and high school level. Athletic honors include two Coaches Awards for High School Volleyball, two Coaches Awards for High School Basketball and she was named West Potomac Athlete of the Month as a senior. She was nominated for the Champion of Character Award and was nominated and won the Fairfax County Public Schools Women in Sports Award for West Potomac High School. Dorn plans to play basketball at Shenandoah University in the fall.
Chastain, a senior at Gonzaga High School, played FHYAA lacrosse and parlayed that into a four-year varsity lacrosse and hockey career at Gonzaga. Among his athletic honors are four-year Varsity Defenseman - lacrosse; Lacrosse Team Captain, 2015/2016; 2d Team WCAC Lacrosse All-Conference 2015; Coaches Award, 2015; Honorable Mention WCAC Lacrosse All-Conference, 2016; 4-year Varsity Defenseman – hockey; Mid-Atlantic Prep Hockey League (MAPHL) All-Academic Honors, 2015/2016; Washington Post All-Met Ice Hockey (Honorable Mention); Gonzaga Ice Hockey Dominik Pettey "Man For Others" Award, 2016; Asst. Team Captain, 2016, Gonzaga Ice Hockey. Chastain will play Division I Lacrosse at the University of Maryland.